Hello and welcome to Insectduel's Game Corner. I was thinking about changing the name of the blog because I don't write much about my video game childhood anymore so I wonder if I still gain revenues from Google Adsense for blogs I wrote. It's 2016 bringing it the New Year but just to be honest, I didn't feel like writing my blog anymore because I was more focused on my gaming project. It is most likely working with Miyuki from Fight Fever but I got some stories to talk about.
Beginning on the 4th of January, this double feature concert is promoted by The Ronchan Project which you can find on Twitter but except I didn't book these performers I only promote them. First there's Lulla Miyuki with her band partner Michael Biskup & Youth Yamada of The World Chocolate. The show was a failure to promote comparing with Yako Eicher's jazz performances but I never talked about Yako Eicher's performance including after the show because they're private. If you think Fumiyo Narita is so great, you wouldn't believe until you meet her yourself because she is not good as you think and she's the teacher or instructor? Get the fuck out of here! That is why these 2 performances went really well.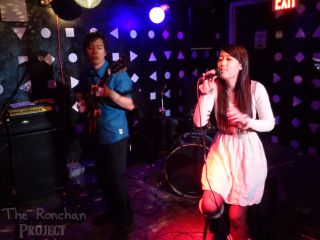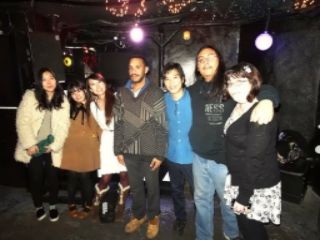 There's also the GAMBAZine event at Hell Phone but the story won't be told. The next one is Megumi Watada at Leftfield NYC and they're formed a band that exists called Lotus Verry. It's no wonder I couldn't find their info because they're so anonymous. Here you see Megumi on vocals & Tomoya Ogawa on Guitar. Believe me I have too many Meg followers which includes Toyoma which I will release her off my Facebook soon because she is not worth it, Matsumoto, and Okura which also going to be released off my Facebook. I already released Momma because she went back to Japan and Megumi Momma is just not worth the time to meet up at the time. Anyway, Lotus Verry is Japanese Pop and Rock music. When it comes to J-POP music you got to step up to it. Most of the people I don't know but some friendship don't really apply to me until the next one which is The Delancey.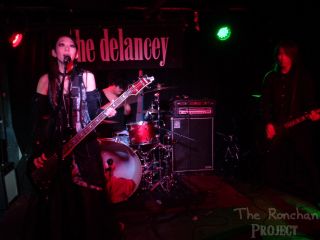 When I enter The Delancey you assume that Kazuha wouldn't know who I am, right? Take a look at the past. MinCon was the first attempt to meet the Kazha band unexpectedly because the Insectduel's Domain team had it planned to go to Mineola. We been tracking down some conventions to go in nearby areas and including MAGFest. Other people wouldn't know who I am but it takes a while like Misa Ogasawara back in 2012 but WRONG! When Kazuha saw me she immediately comes up to me. The same goes with Singer Aki even though she isn't on my Facebook list until after j-Summit New York. What about Chie Takao, there you go! Only because she friend requested me but otherwise Chie wouldn't come up to me.
Anyway this blog isn't part of the review it's my personal story and these events are promoted by MarCreation Inc. Lust already performed before Kazha set up on stage. Why do I always end up meeting up Lust? Do I like the band? Or is it because Kota Mori is part of the band. The members of the band are Yuya on Vocals, Kota on Drums and Yoshi on Guitar. Lust is nothing important to talk about let's talk about Kazha. To me, Kazha is the opposite version of Reni Mimura. She cosplayed with more Lolita and gothic style. She is kawaii like most Japanese women but otherwise Seiko Boku of Gelatine is just one punk ass woman with more sexiness inside. The band and the music itself of Kazha, its fun to dance, listen to and rocked on to the music. They are from Tennessee meaning that they're rare to meet up within your own area. I already had the CD to support the artists but I want something more than that the next time I meet. Kazha is the one band I like to meet but because my former favorite band Uzuhi is gone, maybe Kazha can be the new favorite band while The Asterplace already exists including the jazz singer Yatsumi Murakami.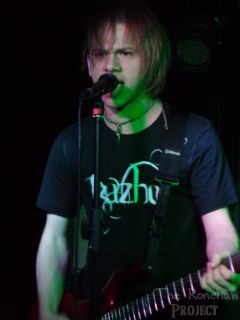 If you think this guy is part of the Kazha band? Nope, he brought the shirt from Kazha and played his guitar. The next band is Above the Empty and it is a good band with great music but they're a local band in New York City.
What is the Insectduel's Domain team planning? Is Katsucon in our list? If we plan correctly, then we will go to Katsucon unless I see their schedule. We cannot go there for anything but at times we have to.