This story takes place after the Wintercon event which comes to a live music charity event at The Bowery Electric known as j-Summit New York. On the entire 2015 year there's only four which started in March, then May, August & December. March is the year when I met Chiela, then Maya on the month May, The Akabane Vulgars in August and it all comes to this. Keep in mind that
this not a review
it's my story.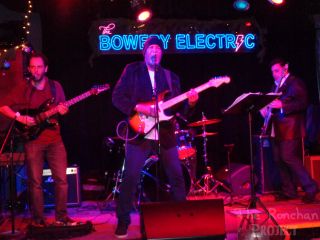 The first band you see is The Big Apple Sunshine band with Michael Potter and 3 others. Not a bad start but as I promote The Big Apple Sunshine band in one of my Facebook ads, I'm hoping if more people shows up. The show is already as epic it is but was it successful? You bet it is! The next one is The Venus De Melos and I have no clue if the name suggests the band of him. I have no comment on his performance. The third one is Nicole Oliva. What are you kidding me? Does she has any of her original tunes and not just copyrighted songs or refer as cover songs. I don't care about her vocals all I care is not use any copyrighted songs while you're in a live performance. According to Muchmores in Williamsburg Brooklyn, no one is allowed to perform any cover songs while booking a show on a venue. I kind of miss that place but I suggest bringing friends over a party.
The fourth act is the Naoki band I have to say that he is awesome but almost every time in the 2015 year. Naoki is just keeps getting better and better. The fifth act is no other than Meg Matsumoto. I'd say that she performs every single time which makes her part of the j-Summit New York franchise. Not if she sings but she models also and she's kind of fun to talk to.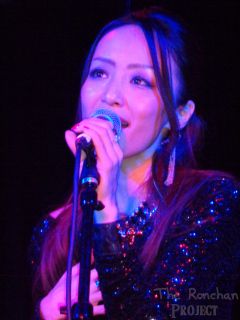 The sixth act is someone even rarer than TsuShiMaMiRe, Kazuha Oda or even Starmarie on that matter. The performer I'm discussing is someone named Jade Tokyo. Jade's music is kind of interesting but what really gets to me is the friendship part. I usually do not want to add anymore people I met at j-Summit New York but with Jade Tokyo I guess I have to take it. The same goes with Chiela back in March but honestly I feel that I should have added Chiela on my list before the White Plains Sakura Matsuri at the time she saw me and Tokyo Tapas when Kaori was around. Why I keep adding people on my list including Kazuha Oda after MinCon? I don't know! However, I started removing people off my list and replace them. That makes me wonder if Chiela is ever going to come to NYC in spring 2016, I missed her. Onward with the seventh act.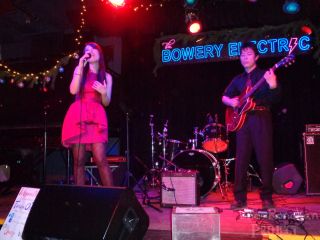 After Jade Tokyo, here comes Aine Hakamatsuka. She is nothing special but only sings soprano that makes me want to drink and socialize with Megumi. Surprisingly Aine is also a rare act but she packs her stuff and leave The Bowery Electric very quickly. Number eight is Megumi Watada. Unlike Yuko Ito, Mika Mimura, Misa Ogasawara, or Megumi Momma back in the early years Megumi Watada knows who I am otherwise Watada is another useless wannabe. On the other hand, Megumi is pretty good and makes me want to service my video recordings again. At that time, my video was removed by Watada's request but she is willing to have my video up again. In 2016 everything is going to change when my YouTube is running. Only Lulla Miyuki & Cadre will be posted on YouTube as for the other people needed approval like with Reiko Takahashi (Reiko 4D). By the way, Kazha is disapproved.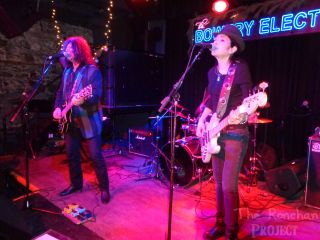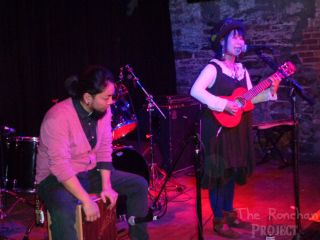 Number nine is LUST and ten is the Alan Merrill band. LUST is no comment but Alan Merrill is one hell of the band but he's no Shinji Harada. He's put up a couple of songs but that's the way they sing for JAPAN. Number eleven is the Rie Tamuro band. Rie is one of the girls that also immediately know who I am just like with Chiela except with Cheila she added me on Facebook before she run into me. Rie is only 21 years old but is she still 21 years old after a year later or if Rie will always be 21 years old. Some Japanese people don't want to expose the age which is why they always be 21 years old. Argh, some don't update their profiles. About Rie's song, although she doesn't speak English very well she had something on her sleeve. With Kota as her husband and manager, he book shows for her.
Last one is Takeshi Otani band. They perform nothing but jazz, jazz & jazz. Something that Tomi Jazz allows to offer or the infamous expensive Jazz at Kitano. After the party, there is only one person that really got into me. Too bad Jazz Tokyo is quickly going away but Megumi Watada is planning a show on January. The next one is March 2016 so I'm expecting someone I want to meet and only to follow at this time.