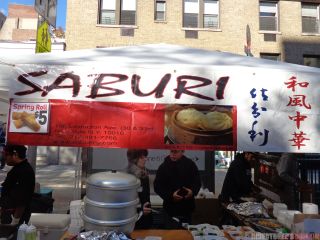 You know I get tired very easily that my health is about to run out of energy. By the time I work I get knocked out very easily. Not long ago in October 2015, Japan Block Fair has returned. Unlike last year, it doesn't have a stage along with big performances. To me, it started to become underrated. Which means it's going downhill for me BUT on the other hand the shopping spree never stops.
Some vendors are the same while some are different. Have you tried fried Ice Cream? You had no idea how is made without getting melted. There are other great foods as well such as Japanese pickles or even Hakata Tonton which never gets old. The best Japanese food at Greenwich Village. I really like Japan Block Fair at the time since June 2010 but the year 2015 now, it's getting boring. Even Uzuhi and Reni Mimura were big stars back then in the early years.
Not if I went to Japan Block Fair but I also went to their Arts Gowanus Open Studios event. They have different areas within the Gowanus and Park Slope in Brooklyn with their art galleries. Some of them are paintings or statues while others are clay making.
That's it for the blog but I feel that I wasted my time long enough. I get sleepy very easily and also very weak. Insectduel's Game Corner doesn't have much time anymore. The more I waste time the harder it gets. Someday I will live financially free but not yet. Someday, we will get back to it.