You know when I celebrate these festivals based on different cultures; there is only 1 festival that isn't related to my culture. Ladies and gentlemen, I'll bring you K-Town Festival and Korean Day Parade.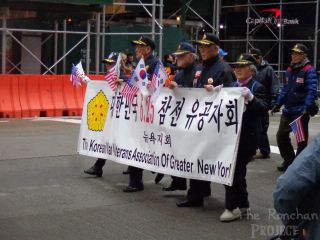 These kind of events always take place before New York Comic Con, before I get to talk about the festival let's move on to the Parade. I haven't been writing this blog in days because I was busy but here it comes. The parade isn't that bad but the worst thing that bothers me is the cold and rainy weather. Every time I come to the K-Town Festival and Korean Day Parade there's inclement weather. I haven't remembered who made the festival but I believe it was made by the folks of The Korean American Association of Greater New York. Okay let's compare with the Japanese festivals which are the Japanese American Association of New York. They both a group of people that create events for the greater community but the JAANY are the only people that brought the Sakura Matsuri in Flushing Queens.
Things can never be different when you come there every year but as usual there are vendors of food and products related to Korea. This year, I haven't met Miss Korea around the festival but at least there is more than one when you see them in the Parade. Before I continue on with the festival, I found something really offensive that no male can ever see. You know what I am talking about, right? Good because I feel sorry for the ladies that got through this nonsense. Anyway items at the K-Town festival isn't cheap unlike Japan Block Fair, it's like $10 or more depending of which food you buy. Hell, even JAANY played it cheap with their food so why KAAGNY so expensive? Maybe that's the way it should be.
The only thing in the Korean festival that entertained me is the performances. The talent show is being held every year and run by the third party television company called The Korean Channel. There are side performances like the karate demonstration, the choir band, the dance group and many more acts. Things can never be the same. With K-Town Festival and Korean Day Parade being in success, you would expect to continue on the next year will guess what, it will. We may not be back next year unless otherwise but we will see.