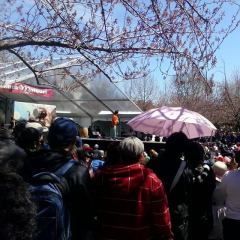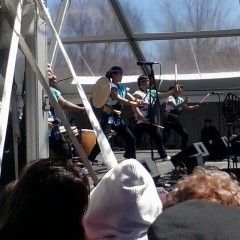 Hello everyone, let's get on with another Sakura story shall we? Many of the Japanese festivals also known as Matsuri is a celebration of Japanese culture of the United States of America. Then the cherry blossoms came in celebrating the full bloom of the cherry blossom flowers known as Sakura Matsuri. The Sakura Matsuri I grew up with since the year 2012 is celebrating Japanese culture along with Cosplay, Anime, or Manga cultures at the Brooklyn Botanic Garden. The Sakura Matsuri event in Brooklyn is always great and it was lot of fun for all ages. Not all Cherry Blossom Festivals celebrated anime cultures or even Japanese Culture itself as some of them are entirely different, for people grew up with only cosplay had no idea what the Cherry Blossom Festival is really about. Most of the cosplay haters think that cosplaying on the Cherry Blossom Festival is disrespectful to the culture. As we all know, the Sakura Matsuri celebrated a tradition to all Japanese Culture.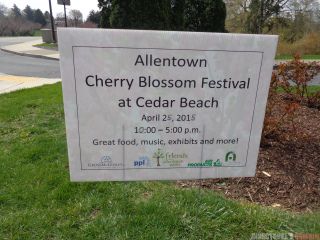 \
Out of all places there is one town that celebrated less of Japanese culture than any other Cherry Blossom Festival, and that my friends is the Allentown Cherry Blossom Festival. How could the Friends of the Allentown Parks do something so easy to do? Gotta love them small friendly towns. Anyway let's find out?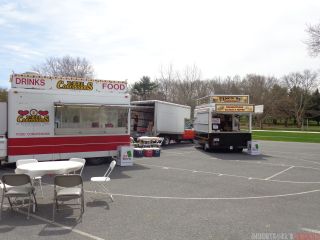 Right off the bat, this festival ALREADY has some cheap vendors. What's wrong with this festival? More like what's right with this festival? You see that everything went wrong, from the food, to the performances, the cherry trees, the festival area and it goes on and on and on. The first thing you'll notice is that the food isn't Asian at all. What I mean by that? That means no Sushi, Bento Boxes, Ramen, etc. You think the food is the problem, wait until you see the performances. Most of the Cherry Blossom Festivals have a Taiko performance but in Allentown, not a single Japanese entertainment. Just country music, dance performances, & school recitals.
You think Allentown Cherry Blossom Festival didn't have a single Asian person; well the city didn't have much Asian restaurants either. However, the festival is always great for the younger crowd or for the family there is a little hope. There are activities such as Japanese Calligraphy, The Puppet Show, Parasol Painting, Making Origami's, Bonsai demonstrations, chalk drawing, & meditations. The Allentown Cherry Blossom Festival is dissected enough; let's go on with my personal story.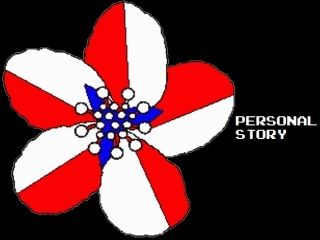 When walking down on Ott Street, you'll notice some Cherry Blossoms in some neighborhoods but thank god there is a sign. Finding Cedar Beach Park is not that hard if you have directions with you. You think my reviews are rants but really, the atmosphere kind of look like Japan with the rivers or the shrine. However, the cold wind is absolutely terrible. You think that there are more cherry blossom trees like you saw in the flyer, I think not and unlike New Jersey there are 50 Cherry trees or maybe less at Cedar Beach Park. There are games to play but I haven't picked any at all with the exception of picking up a parasol out of the box and paint it.
During my lunch, I did brought a cherry shaved ice and eat it. Guess how it works? You can't just buy their food you have to pay the parks staff some money; they give you a ticket and give it to their vendors. During the rest of the festival, I meditated and shut my eyes down and watched their dance performance, some show, play bean bag, and watched the county folk performance called the acoustic project. After the festival, I walked around Cedar Beach Park to seek more Cherry Blossom Trees but I do give credit for having the largest Cherry Flower Tree in Allentown, and now for the verdict.
The jury is found Friends of the Allentown Parks
inconclusive
. I will explain everything about Allentown's Cherry Blossom Festival. After my arrival to Allentown's Cherry Blossom Festival event, I did have a talk with their executive of the parks. The 1st Cherry Blossom Festival had vendors and performances and this year is kind of Asian oriented but not quite. Now I know what you're saying, oh this festival is a disgrace to the Sakura Matsuri franchise. Nope, you're wrong and I don't approve for what you said. She also told me that most of the Cherry Blossom trees didn't full bloom on time because of the cold weather. What's really interesting is that Washington DC is actually cheating to get their trees to full bloom by using blow dryers. However, the executive ACTUALLY knows about Philadelphia's Cherry Blossom Festival.
I can believe that the 2nd Annual Cherry Blossom Festival of Allentown worked really hard on it and I do appreciate it. It's a small city so don't expect anything major comparing with Philadelphia or even Newark New Jersey. Overall, the 2nd Annual Cherry Blossom Festival of Allentown is fun for the family, well oriented, it is American style, a decent festival to celebrate, and is enjoyable. I do however enjoy the outdoors celebrating the festival and took home my painted parasol. CASE DISMISSED! I have nothing else to say, let's move on with Japan Festival Boston.
One more thing, I would LOVE to go back to Allentown next spring.