Hello everyone, unlike my previous blogs day by day I am finally going to talk about Japan Nite. You will not believe how much does this event meant to Japanese fans of the band or the culture itself. Before I get to the story, I thought I should give you a recap of the story.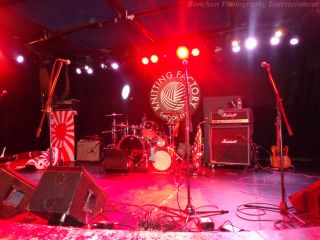 In 2012, there is an event called Stairway to the Dream's 1st Annual Sunrise Fest at the Public Assembly which covers the family and music marathon during the night. On the entire event, I was in the front room rather than the back. That is because in 2013, both Reni Mimura and Robin's Egg Blue are in the back room of the stage. But that's not the point; the main part of the story is some woman named Jam Toast is passing Japan Nite flyers to me and other people. I thought I had the balls to come over but I am quickly run out of money. What I heard is GELATINE played the event on their own country along with others from Japan. Otherwise that would be my first meeting up with The Akabane Vulgars of Strong Bypass which I actually did met them in August 2013 at Sullivan Hall.
With 2 missed Japan Nites in 2012 and 2013, 2014 was my first Japan Nite ever so I finally got a chance to experience what the event is like. Let's recap last year shall we! Now, when I came over to The Knitting Factory I immediately went up to Starmarie and brought items from them. The shows are great but there is only one that I didn't like the most and that band is Vampillia. You want to know why Vampillia wasn't so great to me, well the performance is TERRIBLE and way too long and it's not really music and like watching a play from a theatre. Don't get me wrong that the music is good but performance is awful. I always thought Starmarie played the best role in J-POP music when I watched it and so is Jungles from R.B.V., Zarigani$, & Happy are the best roles. What I remember is that Jungles are in love with me, I kind of wish I brought items from them but maybe when I get a chance to meet them again when they on USA tour.
If you thought that j-Summit New York or Stairway to the Dream events in New York City were great, you're going to love how the Japan Nite team tried to cash in on this legendary franchise and legitimately I might add. You will not believe how rare this event is and only comes in once a year with top notch bands only Japan. However, most of them speak almost perfect English while some of their Japanese is broken. But it starts here in the year 2015.
In the beginning of the story, you will immediately see the bands setting up their merchandise to sell. Like with Starmarie last year, I went up to TsuShiMaMiRe which also a female group band. So what did I do? I brought more CD's from them and including a poster with a signed autograph. The show starts with Samurai Dynamites. You can tell right off the bat that the show is already exciting as hell. Would you want to see the entire male band with saxophone, accordion, guitar and a drummer? I say, they were great but I chose not to meet and greet them and buy items from them. Let's move on with the next band.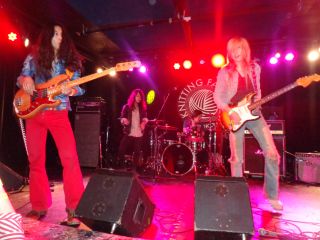 The J-ROCK band Quatum is also good. They kicked ass on stage and rocked the entire crowd. What's so good about the band is the awesome music that you wouldn't want to turn away. Like with Samurai Dynamites, I chose not get their items or talk to them. However, it's the females that I talked to the most because I am a guy.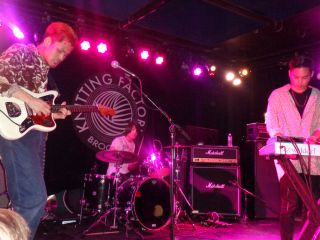 The Fin. well since Audrey posted a YouTube video before the event starts on one of their music videos called Night Time; I already got so addicted to that one music so I decided to take a chance. The first music on stage was good and the second one sounded better than the ones I heard on the CD. By the way, the whole album Days of Uncertainty was uploaded on YouTube. Would you want to copy their music as .MP3 or any other sound file and burn it onto a CD or you rather buy a hard copy of the CD that is totally legit. For once I actually brought their CD and haven't talked to them either. That would be cool though. Overall, The Fin. is excellent band and is highly recommended to buy CD's from them instead of copying their music for free from a YouTube playlist. If YouTube tracks down the content ID match for The Fin.'s music, then they got paid for their content.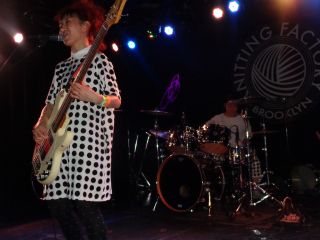 Next band, Zarigani Dollar. If you think last year is so great you may want to recap. I mentioned that it was okay but I haven't fully implanted the review. I'd say that their music is way too punk to hear for a sister band. Surprisingly, I didn't remember talking to one of the members last year but why I haven't remembered that. Maybe because I talked to one member but oh well. Anyway, why haven't I brought CD's from them? I don't know, anyway I spent most of them with TsuShiMaMire anyway. Back to the story, Zarigani Dollar just makes the crowd to dance just like with last year. Remarkably amazing don't you think? Let's move on with the next band.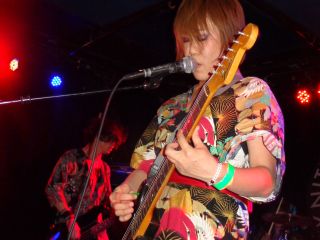 Now here's BO-PEEP. Another interesting band from Japan but not to become a fan likes with Quatum and Samurai Dynamites. There are 2 male guitarists and a female drummer. Sadly, it was an okay performance but I haven't myself into more excitement. At least better than Vampillia of course but the crowd really love BO-PEEP.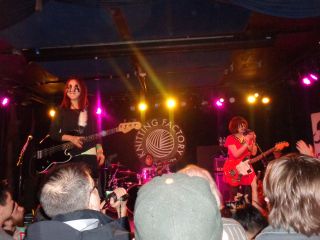 And finally TsuShiMaMiRe. Good lord, these girls are just all over the place. You may think that they were the female versions of Uzuhi or the The Asterplace for their introduction before the music starts, that's just the way most bands do. They change their attire and attracted the crowd and started the performance. What I heard from TsuShiMaMiRe is all members never change. They are rarer than The Akabane Vulgars of Strong Bypass or Starmarie as a matter of fact. Even that, Perfume & Morning Musume came over to New York on October 2014, isn't that sad? With few people left right before TsuShiMaMiRe comes up, at least the people who stayed had a good chance to experience this all female band. That's something that BALA at New York City from Tokyo should start working up. You wouldn't believe how amazing these girls are. What's sad is I won't get to see them again after this one performance unless you are willing to travel to or start living in Japan and follow them. It reminds me with IRI when she comes to New York and Los Angeles with her performances. Currently she's with Music Art Box which I had no idea about it.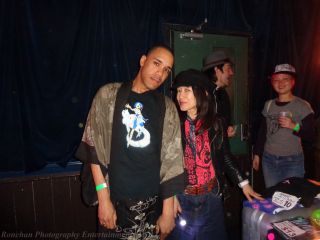 I am giving Japan Nite in New York City a final verdict. With the performances in the 2015 year, it was even better than last year. They brought the bands from Japan to play in the USA, sell their merchandise, and get to meet and greet the bands all night until the end. But it did not stop here oh no, I had to run into Audrey and decided to bring home one more souvenir from the event. That item is the 20th anniversary T-Shirt. After that, I said my goodbyes to TsuShiMaMiRe. You might be saying, oh I should gave them a hug and I did. However, the member is most likely Mari.
When the event is over, getting my way home is way too difficult because the L train is blocked. It took me an hour and a half to get home and that's the end of the story. Next story is Columbia Japan Society.