EDITED because mentions in this blog are written as of 2/28/2015. The alcoholic drinking line under Lily Saito's pic. Be aware that there are some rants and raves in this blog.
Hello everyone, here's a story that is based on last week. I've been busy and work needs to be done as soon as possible. First off, I went to Carnegie Hall for Gohei and Friends concert at the Weill. Then I went to Staten Island, for everything goes cafe and deep tanks studio. After I went through time, I have managed to get to The Trash Bar in Brooklyn.
Unlike most events, it's been organized by Candy Apple Red Productions. Instead of doing my usual work, I chose to dance around a little bit but it's dangerous when around punk rock bands. When handling devices, I have to put it in my jacket pocket. The whole time, I was extremely tired and sleepy which is why I am trying my best to get home after the whole Uzuhifest event ended. By the way, their show is kickass.
Now on with the main course, j-Summit New York volume 23rd of the Tsunami and Earthquake Fund. Let's see how better it is from the last one which is September where of course Lulla performs and all that inappropriate drama I mentioned. The crowd was small and my promotion failed so let's get on with it.
The first one on stage is The Nihon; I don't know what it means but Nihon? Come on it's not like the whole group band named NiHonGo. Anyway it's one guitarist and a drummer, that's all. The music is already got me in the groove which is GOOD but there is an error. The falling mic while I was taking crazy shots. Not bad, nothing special. If that's Nihon's attitude of dropping mics during the performance, then he should do it in stadiums or coliseum concert shows instead or anything other than the bar performances.
Here's another one, Nicole Olivia which the photo is not available in my blog. She sings J-POP much like in Hitomi or Sneko. Her performance is decent, but disappointing. Then here comes Yuri Bear, I don't know if I talked about it in my past blogs in Choga but here's Yuri's overall performance. She only sings vocal which is good but me kind of wish she performed more than she has. During the performances, the crowd is getting high and money is being thrown into the donation box. Unlike September, HUGE IMPROVEMENT and not if that there's a raffle game for Tickets for the Lennon concerts. Now that's what I call that a PROMOTION. I miss Reiko Takahashi, maybe I want to meet her and talk to her in person and have a glass of wine with her and maybe become a friend.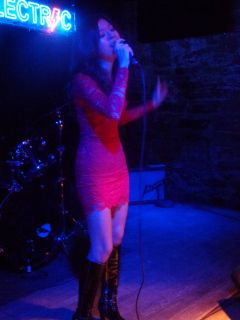 Okay now we have Megumi, kind of like a duo performance. This is a little more like an original performance. Her song "Like a Drug" is really emotional and "Still" was pretty good. I kind of like her songs on stage. It's too bad I gave up video recording her performances after she release her EP's on iTunes and Amazon otherwise there will be lawsuits involved. The first half has ended while Rich Kameda doing his magic tricks which never gets old.
Next up Lily Saito, well Lily is right! Remember when she performs back in September, well she came back to perform once again with her mom. Before Lily goes on stage which is during Nihon's performance, her mom tries to give me the Heineken Beer because she cannot drink which is one of the violations. REFRAIN from sharing any kind of alcohol to ANYONE. Now when Lily has introduce herself, I have one question? Why in the holy mother of FUCK does she need to introduce her age, it's a 21+ concert venue. This is a kind of thing that belongs on American Idol. Not only if she's mature but her image looks like an adult. Now I let's talk about her performances, it was disappointing and not original. Why would she perform is she is not singing her original songs which doesn't meet her requirements. As a matter of fact, Setsuko sings all of her jazz cover songs while she has a few original songs so Setsuko is better than Lily.
Next were up to Nobu, now he came to the Bowery Electric so many times while his promoter Kyoko Uchiki was around. Since Nobu sings Gospel genres, it never gets so old but it's still entertaining. But other than that, there's not much to say. During the show, I drank and interact with Megumi. I had to say that IPA is NOT one of my favorite beers and is way too bitter.
Next is Rover, that's it, just Rover. Now Michael Rover came over and met me since he liked my Facebook fan page and gave me the CD right before they performs as a thank you gift. Remember when Ryohei gave me their Paless CD as a thank you gift; I never actually thought I was thankful for my photography work. Anyway, Rover wasn't bad but damn good. This is another perfect crowd entertaining for their band much better than LUST. Well it would be nice if j-Summit New York have girl only bands like BALA but let me tell you if Stairway to the Dream have BALA performing why not BALA or THE SUZAN perform more often in New York.
Next we have the Ideal Okrestra, now I never thought that woman on stage could be an attractive magnet but they have many people playing different instruments. Again fast forwarding to Facebook, that woman is Ruco according to their Facebook fan page. What the same Ruco that performed before at the last j-Summit event? Anyway, their show is once again satisfying the music revolution.
Well now we saved the best for last, it's The Rob Balducci Band. Now let's just stop for a moment and take this in okay. *Exhales Breath* The Rob Balducci Band! It's the final show of the 2014 year. Alright here we go, The Rob Balducci Band. How Ironic. As far as the show goes comparing with last September, too bad I am not fan of the artists like most of them. I'd say just stick with my close friends of the Japanese band like Uzuhi and someday The Asterplace.
Well that's it j-Summit New York was a success and it's the best it ever was. Now to be fair, most of the performer acts are okay including Rich Kameda but it's the same kind of performance would you see in the theater? Now it's been about 2 years since Myu to Yu when I first come to j-Summit New York, the shows are keep getting better but what's happening in March 2015. We may never know.