Insectduel's Game Corner has blogs based on real life. You have been warned!
If we've been flagged or contacted, then the WHOLE blog gets deleted!!! We've been written about it since Insectduel's Domain is opened up!
EDITED because mentions in this blog are written as of 2/28/2015.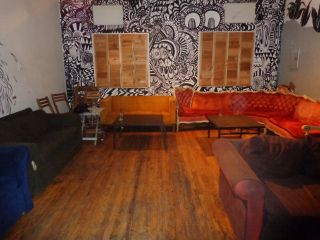 Alright, let's discuss the place I never went and it's a pretty convenient venue. It's rare to go to Brooklyn for a concert venue once in a while such as Goodbye Blue Monday with IRI and the Tazigens this year and The Knitting Factory where Japan Nite takes place by Benten Records and Mariko's show. Speaking of Mariko, everywhere she goes around NYC she book shows all over the place in Brooklyn and Manhattan. To celebrate Thanksgiving eve, let's pop this blog in, Much mores at Williamsburg Brooklyn.
The first thing that happens is when the 2 girls are sitting on the stools before the concert starts and then I ordered some soda. But what's even more fucked up is one of my crazy friends show up and I didn't even speak back. Pretty easy I must say that I am not friends with anyone I don't know but I'll explain further to the story. When the room is cleared I went in and whoa, look how comfortable this space is and has good seating. Kind of like a private room but it's a public concert. There are exceptions, Muchmores does not allow anyone performs cover songs or fines will be paid for copyright infringement.
The drinks, oh my god it's even worse. I can't even explain how broken this place is but the problem is that I never ordered beer so how would I know if I need proof of ID to buy something. In Manhattan bars like The Bowery Electric, you need ID to enter which makes sense. What happened? Does each borough have its own laws? By this point, some of the Bronx liquor stores closed by breaking the law which sells alcoholic beverages to patrons under 21. There aren't much concert venues in the Bronx but I assume you need ID to enter because some Bronx bars are strip clubs.
The bathrooms, I can't even tell if the locks work or not. I went in the door and turn the locks counter-clockwise. Not bad, the Goodbye Blue Monday is better. Remember ABC Coma Rio, the bathrooms are worse and it's perverse.
Back to the story, the first act is? Oh come on do you want me to tell who that person is? How many blogs did I wrote about the same person? Well, I tell you. She plays a piano, she can write songs, she has flowers on her head, and she has a good voice, and sometimes performs as an actress. Can you guess who that person is? Well at the risk of blog takedowns like with the Garden State International Heritage Festival, I am not attempting to reveal any names this time or to post any more pictures.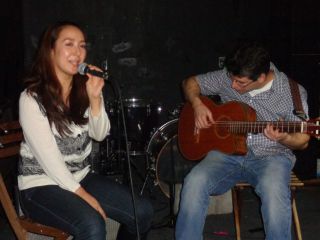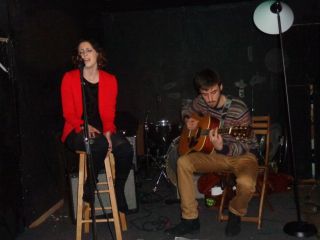 The second act is Chieko with Anthony. Sound familiar? Then the other acts performed including the final act which is Madeleine Woods. Kind of reminds me of the Arts Lab Series event by Borona Arts Entertainment. The only difference is Misa, Penny Arcade, Gerry, and the other Arts Lab performers are not present. The whole event is organized by Madeleine. That covers the entire event but I had to say that everyone did a good job on their act.
Now let's talk about my personal story during the event.
But BE WARNED, I wrote a LOT of blogs at Insectduel's Game Corner so I assume that I may be flagged or contacted anytime soon which means the whole site gets taken down.
With Chieko and Anthony's performance I had to do my job and keep an eye of any suspicious activity to make sure no one is sexually harassed during the event like with j-Summit New York back in September. Okay, first of all I said sexually harassed. Like I couldn't figure what that bastard was doing but anyway that bastard just make a move, but when I tried to make a move back at the end of May 2014, she dodged it. Believe it or not, since the Garden State International Heritage Festival blog is deleted, I had to mention a few things that really bug me. The concert continues, I went back and buy another soda and went to the bathroom. Unlike the Tazigen opening party, no one knocks on the door or attempt of coming in while I am using the toilet.
Have you heard people say don't let your friends drink? So what do you do? Should you allow that person to continue drinking or you should drink with your friend? Either way, you're fucked? The decisions you make if you're trying to protect your friend from getting drunk, then you come in to that person. Do you attempt the drink, or be yourself and don't drink any type of alcohol to protect yourself rather than your friend. And that's my personal story.
Unlike most of the previous events, I say it's not bad but it completely shocked me a whole hell of a lot. At the end of the event, I couldn't imagine how my friend acted or the person who I thought is a some kind of disrespectful person that I claimed. So I heard it and it wouldn't matter to me anymore. I got really calm and decided not to intervene like I originally planned. We had a group photo and became one big part of my friend's family. It's been one mockery out of me but comparing with Reni Mimura, all I have to do is to make a change the next time I meet. However, I am willing to continue to be part of the friend as well as being a great supporter to my friend.
Before I wrap this blog at Insectduel's Game Corner I have a lot to say. I started to become more decent than I ever was. Today each one of us men are fighting over the same girl but unfortunately, she already chosen who she wants which leaves me and everyone else vulnerable. However, that does not mean I should stop following my friend but to make it better for myself. Without intervene, I should let her do what she wants. Moreover, I didn't disrespect a single friend after everything I do, just being nice & friendly without sexually harassing or assaulting her. I don't sexually harass my female friends and I never will. You may think she's the only one, but no there are 4 others behind me and I followed them as well and treated them with respect.
I know for a fact there's nothing I can do unless there is a sense of urgency. But let me tell you, there are other bastards just like anyone else. If you attempt to drug one of my female friends, or attempting sexual assaults, or attempt to make my female friends drunk, or attempt to knock my female friends unconscious, or attempt to misuse my female friends, or attempt to use my female friends for sex and trafficking, or attempt to kill my female friend and make her die. Then you are out of your mind! If you're one of those people let me tell you if you cannot treat my female friends with respect, then go fuck yourself. I don't like you and I assume that you don't like me either. End of story, rest in peace.