Hello everyone, it's time to discuss the events of last week starting with Fontana's Bar. While j-Summit New York is going to hit the scene, there are 2 Japanese concert related events playing at a few venues. First band is The Ricecookers and the other is The Asterplace. 2 J-Rock bands were kick ass especially The Asterplace. What I don't expect is Yatsumi Murakami; I have met her since SpringFest and Sakura Matsuri Washington. She has purple hair, plays in piano and a vocal singer and wears miniskirt and tanktop. Besides singing, Yatsumi is also a model much like Setsuko and Megumi.
Anyway with the story, there is a contest where you drink beer to win a prize. I chose to ignore the drinking so please excuse these alcoholic drinking issues with my life. That prize is a CD so what's the point. I brought the CD when I first met up with them at SpringFest. The Asterplace isn't too bad, but it's repetitive.
Next is Stairway to the Dream Stage 21 and it's a long one. There hasn't been an event like this since March with the Dream acts but now I know why The Public Assembly is closed, they are revamping the place. The first dream act is Youth Yamada, the last time I met him is Stairway to the Dream but he plays a guitar. He's a cool guy but I should hang with him often.
Next up is Mika Mimura, I never thought to see her BF in person but I totally forgot that she has one. Is there a good reason why I can't remember things? Let's hold that thought for a second because I met a lot of Japanese women like this. 4 of them appear to have married and had husbands so it's not a big deal but it's best for me to have lesser friend counts in person. Anyway enough talk, there only important thing is her talent. Mika's performance is good along with Megumi which is another one I haven't met. You expect to add another Megumi besides Matsumoto but nope, not this one. Ruco came over for vocals on stage so it's quite a rare performance so it's damn good.
Third one is Harold from Japan, I have no interest in becoming friends with them unlike Uzuhi or The Asterplace but I prefer girl bands, like BALA. I had a CD from them but it's too bad that they are rare and only performs in New York City only one time or maybe more.
Fourth one is Poku Poku Boys; it's a Japanese traditional band with Kimonos. They sing while 1 female calligraphy artist does her job. It's not bad, but I kind of wish I get to know the band but never mind, next one.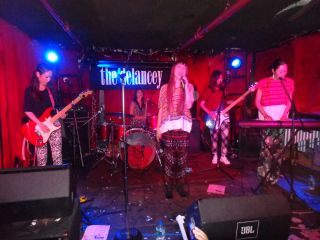 Fifth band is BALA; yeah an all-girl Japanese band which is similar to LUST or whatever. Their songs are good and it's treated better than The Suzan. The only reason why I love BALA because their band members are more enjoyable and they're sister related. Yeah, I said that.
And the last but not least, it's Ruco. I see her several times but most of the time she chose to performs REALLY late once a month at RedLion so this isn't really interests me. She is a lot of fun but I rather am a fan than a friend so nope, there's no way that I can be a subscriber of Ruco's music especially the late night performance.
Now to be fair, Ruco has a j-Summit New York performance but comparing with Stairway to the Dream's performance you couldn't see Ruco's performance without Mika Mimura. Tune in next time when we go to j-Summit New York. By the way, Mariko isn't the time to write.