Choga is one of these Asian restaurants where some Korean and Japanese food is served as well as free music almost every night. In order to see the performances, purchases is a must. However, there is no music charge but you can make a donation to a tip jar.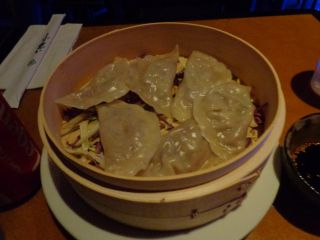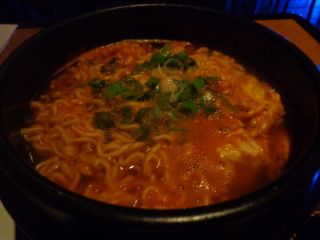 The first story is Setsuko's birthday party which Monday July 21, 2014. I was hoping my 2 Facebook friends would attend but they didn't show up so that's why I chose to sit in the tables. I have money to purchase whatever I see so I had my steamed dumplings and ramen. Unlike last month, I had my chicken teriyaki. And of course, there are appetizers as well. My best option is to avoid some hot spicy foods so my mouth wouldn't burn.
Setsuko provide some great entertainment and so is Mina who plays the piano. Of course Setsuko has 2 of her original songs, Mr. Right and If you believe in yourself. These songs are copyrighted songs and cannot be duplicated or it'll have copyright issues. Not to mention has Setsuko has her down band comparing with her own dancers of the past events I went to.
During the break, I gave Setsuko a birthday gift which is a flower and every one of Setsuko's friends or guests all in 1 group photo. The same goes when the show ended.
Now let's talk about July 29, 2014 at the same venue Choga. It was much unexpected to meet Atsumi of Robin's Egg Blue along with the other Japanese vocal singer I met which is Yatsumi. This is more like a singing Chorus event. If you want to know about how Yatsumi is met, here's where she came from. I'll give you a convention that I went this year and yep, it's SpringFest. There is band where they performed in such anime related events and that band is The Asterplace. I kind of think Yatsumi am similar to Uzuhi's Tsubasa which is why there is a female member of the Japanese punk rock band.
I don't have money to waste so I just ordered the Blue Moon and some water. Oh, you gotta love this! No ID required of buying alcoholic beverages, may I ask why? Here's the other bars around Bleecker Street such as Wicked Willy's or The Bitter End and there is security asking people to show ID's at the door. If a person buys alcoholic beverages without showing ID, then they are screwed especially if they serve it to persons less than 21 years of age. Here's Domaine Wine Bar in Long Island City, no ID and no security comparing with Arlene's Grocery, security and they ask for ID at the door and if they ask for ID's at the door at the bar, why they can't do the same for restaurants. Who came along and said, OK we're gonna have better food, better music and oh those show your ID policy gotta go. When did this idea of simple convenience become obsolete?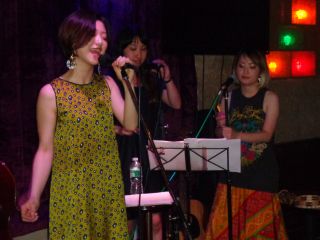 So anyway let's continue telling the story about the chorus band called Always Be Good. While enjoying my Blue Moon before the music starts, Yatsumi already quickly realized who I am and replied with her name. I haven't forgotten who she is since I met twice from The Asterplace.
I have to say that this isn't so bad. The vocalists don't sing their original songs but their cover songs. But keep in mind that they are copyright protected since they belong to the original artists when it comes to uploading videos on YouTube. During the event, I ate the watermelons, drank the beer, and water. Not to mention that Gen Don Horisawa and Masashi also came over.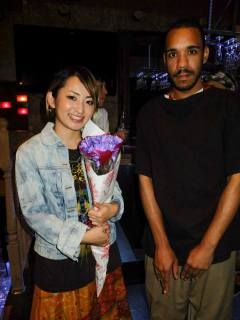 When the event is over I gave the flowers to Atsumi also known as birthday flowers. I couldn't finish the beer but it's best to let it go. The photo is by Gregorio Binuya. If Yatsumi is met on that day, maybe I can follow her for any upcoming shows.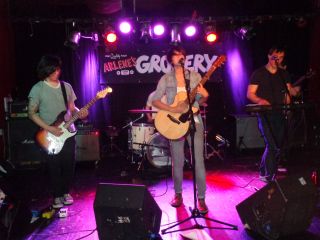 Keep in mind, I didn't bother writing a blog on Mariko on July 14, 2014 at Arlene's Grocery because it's just wasn't a good time after the event. I was originally going to obtain the 2nd CD from Mariko but it never happened. It's the end of July and August is getting ready to begin. Tune in next time when we go to PwnEm Con at Insectduel's Game Corner.