Hello guys, I've been working on Roll Chan and I'll make a batch of this game this week. Now let's talk about the mid week before the next Cherry Blossom Festival shall we.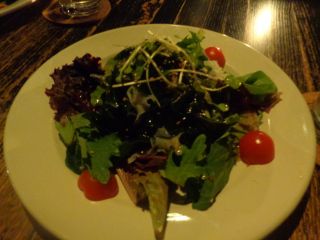 As I already discuss this numberous times about Tomi Jazz, let's talk about the 19th day of April. I immediately got my tax dollars to spend. Without reserving for a seat as I am by myself, it's open for availability. For the musical night, I ordered some seaweed spinach, the creamy ramen noodles with shrimp and green tea ice cream. This kind of night is for Sumie Kaneko's birthday bash and Ryoko Fujimoto's Silver Moon. Of course, no alcoholic drinks are served at this moment and the last time I went to Tomi Jazz for Sumie I was overcharged which is kind of my own fault. Beer just wasted my money on my sister's ticket for SpringFest NY 2014 back in March.
With both foods finished, I just drink and drink and drink some water.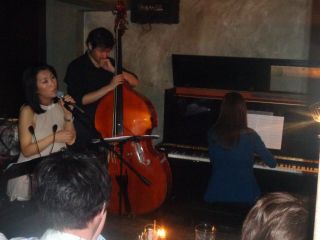 I had to say that Sumie Kaneko and Silver Moon were both enjoyable and I stayed there for both sets all night. Let's play teacher and grade this Tomi Jazz April 19th visit with a 10 point error out of the possible 100%. Ready, here we go!
Well first of all, the seating! At least I got one since I was lazy to call and reserve. When I visit Misa Ogasawara on April 3rd, it was my own fault for being so selfish my coming in a later time. Whoops! Unlike Hakata Tonton's restaurant service, I guess it's okay. Then, I said that I ordered some seaweed spinach, the creamy ramen noodles with shrimp and green tea ice cream. I did got the food but WHERE'S MY DESERT? Minus 30% which brings it to 70% for not bringing in my green tea ice cream. Next, the check! Every Thursday through Saturday, it's $10 cover and $10 minimum for food and drinks. When I looked at it, all I see is $10 cover. What?! I stayed all night and not additional $10 was put into my check. That's 10% off. Not to mention tips during the show which brings another 10% off which shouldn't be used at all if there's a music fee which should be paid to musicians so where's it going to? I don't know. The only done correctly is to take my unpaid desert off my check so that brings 5% up. I am nice enough to tip but whatever. So it's a result of 55% of service. Sigh, let's do it again on Saturday with Yuri Bear and Iri.
And it comes with PIANOS with Lulla Miyuki. When I come in, she had a nice birthday gift for me. Tune in my next blog to see it. Lulla has changed her style with rosesfrom the white flower on her head and she has her new headset microphone. After taking a break from drinking beer, I started to drink again with 2 other people. I was not drunk and Blue Moon is the only glass of beer I drank.
I hang out with Lulla's friends to some concert that Michael Biskup mentioned and never ordered any more drinks. We all left immediately once it's over. What irrates me is some security is strict but at least he's doing his job. This should happen every time you enter. No one under 21 should drink alcoholic beverages. Afterwards, this where it ends which is Arlene's Grocery. I have no money to enter but the hangout has been ended. This story moves on with the cherry blossom festivals based on the weekend.