Hello guys, Insectduel speaking and Sakura Matsuri is coming its way. Yeah, I said that already and am because I am planning a tour this spring. Sakura Con would be nice but I guess not. Anyway, let's talk about Japan Nite.
It's our first time attending to Japan Nite and it was mentioned from Sunrise Fest which is 2012. I thought I should attend but I guess not. Then in the year 2013, we didn't go. As for us we attend into j-Summit New York, Stairway to the Dream, NY de Volunteer, and other Japan related concerts. We also mention that I am not familiar with any of these bands so it's another reason why I should come to Japan Nite. They aren't locally so they are most likely to come over from Japan and play in the United States.
As the story began, Coat and Bag Check is the difficulty because I got too much stuff and bags aren't allowed in the concert rooms at all. Probably a security reason but there is reasons why. As soon you enter the concert room, the first thing I went to is the J-POP female band Starmarie. They were idols like Morning Musume which is similar and they are managed by a licensed third-party. Reni Mimura is also licensed by a third-party company Aspire Communications. I knew I had to buy their stuff, but before that they were looking at my company ID badge attached to the VIP SpringFest NY shirt. Anyone is born reading Japanese is able to read Japanese on my company ID badge. I told Starmarie about myself. After the merchandise I brought, I wanted a picture with the idols and I did. What a great start with me.
Let's review the bands played at Japan Nite 2014. First off is Jungles!!! Jungles is a Japanese girl band from Tokyo Japan and plays rock music. I had to say that Jungles wasn't so bad so I kind of enjoyed it comparing with Bala or The Suzan. Jungles is kind of cool though!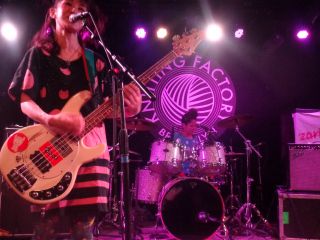 Next up is Zarigani dollar as titled Zarigani$ which is another girl band but only 2 members which is a guitarist and a drummer. They can rock on to the audience as well as fans you see here. Zarigani$ is another great band but I have no interests in following them.
Third performer on the list is Happy. It's a male band that plays rock music but I am not interested in getting to know them or to follow them. Happy is one of those bands I can enjoy but not a fan of the boy band.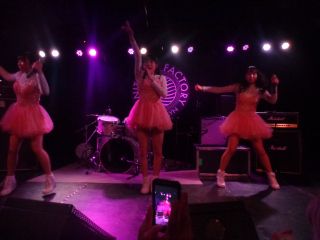 Fourth performer on the Japan Nite list is Starmarie. Starmarie is very interesting and sings J-POP music as well as their dancing and of course every J-POP music can use some dancing skills to it. They are also so kawaii too and is reason why I came to Japan Nite. I had a lot of fun with the J-POP girl band but at least its good entertainment. And would you know that some female J-POP idols are also into fashion and modeling too?
And the last one is Vampillia which is the worse one I ever watch but the band is from Japan. First of all, the guy in a guitar was almost nude except his black thong and has tattoos all over his body. The only girl on the band is a violinist and she was part of that concept. This never ending music nonsense gets tiring and wondering when the song is going to end. Guess what, it goes on, and on, and on, and won't stop! Not to mention the guy in a meat costume has the worse scary vocals. And would you think that nude guy jumping in a garbage can from 3 feet high would be improving the audience. It's a risky move and it's a stupid stunt. Vampillia is a corny band and I would never be interested in buying product or their stupid music.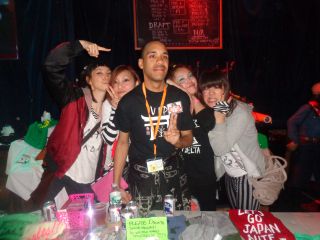 Once Japan Nite stage is closed, I chose to talk to a few people from Jungles. The first person I talked to smiled at me then hugs me after conversation. Wow, I am making a friend already. The second person I spoke to seems to be really drunk when in conversation but it's hard talking to people like that. I had to say that was a good conversation among me. Some of my friends was never extremely drunk and I know from my experience. I talked to a few people while they're drinking. Then I took a photo of the band but next time I am buying product from Jungles. Then continuing with one of the Zarigani$ members but didn't take long to be in conversation and finally, Starmarie. I told Starmarie that it was nice meeting them and they're very good. I gave them all hugs before I leave but I would never see them again and it's my only shot. Since they're from Japan, its hard meeting people like Starmarie and someday I'll be visiting Japan for Norika Fujiwara. Starmarie will be visiting America again very soon.
I got my bags and went to the bathroom. I wouldn't leave without saying goodbye to the second person I talked to from Jungles so I was actually looking for her. She found me and say my goodbyes to her and kissed my hand. My reaction is to kiss her back which is in her face. I said to myself, what I have done! But she was surprised while the first person seen it. She also gave me a hug, but I was too nice to her. That makes me wonder if I ever see Jungles again because I became interested in friendship.
I got home with my valuables from Starmarie are collected. It was an awesome night for me.