It's about the end of 2013 and I will blog about this recap. In fact I want to think this through! Personally, it is up to god to decide who watches from the skies. Do you think that Maid Cafe NY deserves to be in the streets of New York? The answer to all those questions will explain everything according to the testimonies of the bible and the 10 commandants.
In the beginning of my summer 2010 year, some Japanese woman in a red maid dress who is a promoter to cosplay singer Reni Mimura. Oh wait, it's Mako-Chan. You don't see her anymore after the 2011 year because she left Aspire Communications and started her new life. I feel like I want to remove her off my Facebook friends list because we cannot see each other anymore. It sucks! I always thought these maids were entertained, but not quite. With these 2 moe dancers, they are real professional dancers until I followed them. Both of the original moe dancers left to Japan. That was some kind of a roller coaster. The first thing is sexy choreography moves especially the song neko is not on my wish list but how could you explain these perverted moves and it has nothing to do with anyone's dance career to young adults, sorry! Number one is perverted choreography moves.
Now we move to August 2010, something must've happened to Amber Village and the event is ages 21 and over. I never went so according to her blog, she never explains the event. Speaking of blogs, it is not known if it still exists. That makes me wonder if alcohol is related. If I went in the first time, I would run away from Reni Mimura forever.
Sigh, Lulla Miyuki is now my follower and used me with respect.
In September 2010 is when Reni Mimura opened a Maid Cafe monthly maid show event at Amber Village. At least they were nice servers but there are also errors multiple visits especially January 2011 when problems are getting worse. It's also the same January 2011 year when the monthly maid show now spreads to Boston at All Asia Bar. For the entire whole year, Reni Mimura seems nice and friendly. But is she? Well let's find out next paragraph!
When things with Reni Mimura gotten better but it started to crash down and go worse. August 25, 2011 is one of the worse maid show events ever made I can't believe I actually went there. I was tricked into drinking tequila after the cosplay fashion show and Reni Mimura successfully done it because I am a non-alcoholic drinker. Not to mention that Reni Mimura lied to me too in the Facebook comments about the secret gift. Not everyone are alcoholic drinkers so why Reni Mimura did this. Number two, lying, cheat and alcoholism. There's also a turnaround that Gregory Ronan gets passed down because he is a supporter to Reni. That makes me angry! I was a supporter to Lulla and she uses me with respect as I said that once again. Everyone is a supporter to their opposite genders of a Japanese person, right? That event should have been illegal to host because Reni Mimura is not licensed to give away alcoholic beverages to anyone without patron's permission.
Moving on to November 2011 is the time I went to Reni's show in Boston. July wasn't so bad so why November. Of course, I should have learned! In All Asia Bar, there are alcoholic beverages listed on their menu so why the maids listed the alcoholic beverages onto their menu. It's not even their menu it's the restaurants. So I accidently ordered an alcoholic drink that represents a cute maid name but I was wrong. The Bloody Mary is really an alcoholic drink. At least Reni tries to stop me from drinking but not well enough!
Moving forward to May 2012 when Amber Village is closed for their celebration. Until few months forward which are August 2012, the Gershwin Hotel is the cosplay event and people are bringing their own outside alcoholic drinks in there. No thanks! But Agent Sato put a stop to it on September. At least the dance studio maid cafe is decent and also made omirice along with decent soda drinks. Otherwise it will be illegal to bring alcoholic beverages into the dance studio.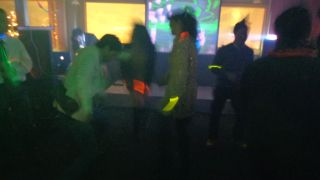 And finally in December 2012 the New Year's Eve party. I can't believe that Reni is part of the event at MIKA Japanese Cuisine & Bar partnered with Asian in NY. Otherwise it should have been illegal to host an event while kids are present. Not to mention that there is no warning either and says all ages on a Facebook event page. All ages, once again Reni or Agent Sato as a matter of fact are liars so young adults would be killed by alcohol abuse. Luckily no one was hurt.
Now we get on to Maid Cafe NY. After the entire recap stories you think that Maid Cafe NY deserves to be opened. Guess what it does not. With all the illegal acts that Reni and Agent Sato produced, it shouldn't be opened at all especially with the perverted and alcoholic acts. Do you know who deserves Maid Cafe NY, the Apple Kissa maids or Tenshi No Ai? These companies should have opened their own store if they put some effort to it.
Now let's do a Maid Cafe NY recap. In August 2013, I tried to promote Lulla's show to Maid Cafe NY attendees. Reni Mimura caught us but we ran away from her. We were only passing flyers and have no personal threats. And in Halloween 2013 before I go to PIANOS, I went in with Jason Voorhees costume and ordered a Japanese curry with Green Tea. I have to say that the Maid Cafe NY maids are not that bad and nice people. I kind of wish I visit more but due to personal and financial issues I cannot. I still think that the Apple Kissa maids were better.
That's the blog I have covered. Personally I won't be writing these anymore. 2014 will be entire different and Tomi Jazz will be visited with Sumie Kaneko January 8th.