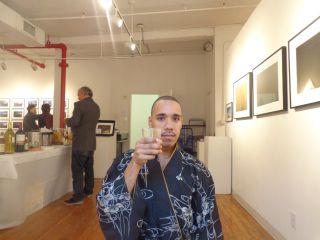 It's nearly the end of November right now and MAGFest is coming its way. Let's do a small recap; Mariko at Wicked Willys is on an eighth day of November. You should check my YouTube videos on the other channel, then onward to Staten Island for Cadre on the fifteenth of November and now the twenty-third day of November.
Remember the time I went to Shapeshifter Lab for Sumie Kaneko instead of Masumi Yoshinaga in March, there's an opening art exhibition for Max Fujishima. It's not the same celebration but back in October I met Yoka at the Japan Block Fair. There are good times and bad times during the 2013 year. This is different because of singer, composer and songwriter Lulla Miyuki showcases her music during the exhibit along with Michael and Jack. I wonder if Masumi would have been the same in March but dang, I rather think about my regrets.
On the entire day I ate snacks, had a cup of red wine and a glass bottle of non-alcoholic beer. I'm not going to abuse my body by drinking too much alcohol. So why drink 2 cups of wine? Actually 2 cups of wine is okay but over 4 cups isn't a good deal. I also looked at artwork as well; remember Masumi's artwork back in March after she was away. Disappointing! I don't know why but I feel like I want to meet her so badly, but it never happened ever again unless I am going to Japan.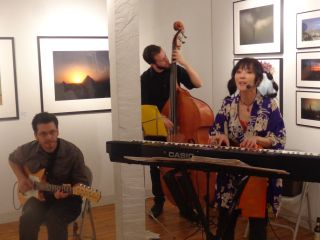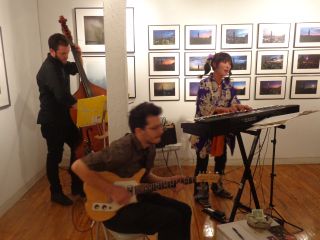 Anyway, Lulla played songs and so is the solo flutist. I had to say that the fans are really getting into Lulla's music and guess what, TIPS. There's some big improvement in a couple of months but she is well talented so far. That would be the best 3 hours spent so far.
The 30th day of November is coming which Lulla will perform at Arlene's Grocery. Then in December I have to refrain from going into events and j-Summit New York and Banda Magda are the only 2 events in the December month. If you think I'm going visit Reni Mimura at her maid show, nope she is already done. In fact I would like to see Mika Mimura at the end of the year since I came for her rather than Misa Ogasawara. This will be my final times on the 2013 year.