On the weekend of the Mid-October, I literally almost broke every bone in my body as I extremely working too hard at Lincoln Center on Friday. With injuries in effect I cannot barely move and took too much pain. As I didn't sign in for work I immediately left to The Rockaways.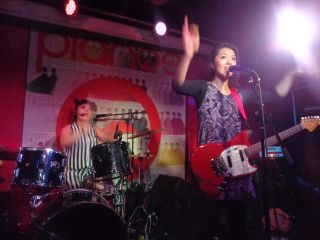 With only days left until PIANOS on October 31st where Lulla Miyuki performs or known to be our Halloween & Cosplay party sponsored by our company Insectduel's Domain, I have decided to come to the showroom lounge for an all girls Japanese band called The Suzan. I'm surprised that it's free but it's part of the CMJ event. Speaking of CMJ, I have decided to skip Mariko at Wicked Willys on that Wednesday because of that $10 fee nonsense.
The pies are free with Vegatable Curry and Mince Meats inside of it. And what is cream ale smells like, oh yeah just like any other beer. I'm trying to refrain from purchasing alcohol but I didn't even bother to drink as my muscles will get only do worse.
The Suzan played great songs but unfortunately, I have no time to chat and decided to leave once the show is over. $10 CD's are to be brought soon.
2013's Japan Block Fair is taken place in Roosevelt Island which I didn't come because of Sakura Matsuri in Washington, then East Village and now back to Upper West Side. This time in 2013, everyone from Fukushima have decided to come to the United States to sell products and to perform. Last year, it is nothing but street ramen and no performances on the same location and in 2011, Japan joins Korea while in 2010 is taken place on the northbound street of 86th Street where Reni Mimura is located.
As usual the Hakata Tonton, then I ended up finding Tsubasa Matsuda from UZUHI which she promotes her own booth. For somewhat reason she look a bit different but my mind knew. Before the peformances are set up, I am on a spending spree with donating money to their jar, buying more products, eating and drinking, not to mention I have to drink the miso soup from Fukushima and Hakata Tonton with respect.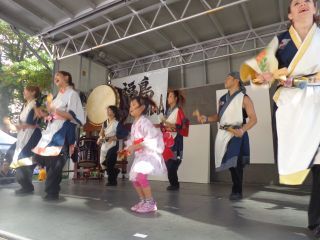 10tecomai first performs on stage. There's Ami and Eri from Foxy Foxes, and the Trinidad family dancing along.
Every time I come to these Japanese festivals, Saori Goda emceeing the event. Except Japan Day at Central Park where the newsreporter by the last name of Endo but I lost her name in my head. Usually, the Kimono is every persons outfit in their culture.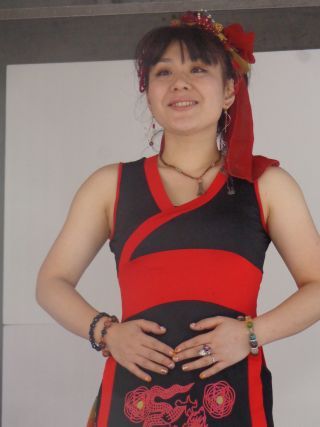 Next performances is Taiko drums along with Calligraphy artist Yoka. Yoka is easy to remember as a reminder of Yuka Kameda which is a Cotton Club tap dancer on Monday nights. Remember the time that Masumi Yoshinaga was here in March in New York City but I decided to skip the opening night for Sumie Kaneko's show at Shapeshifter Lab. Well now there is my lost times that should have been done in Grand Central's 2011 Japan Block Fair festival.
Noah, a singer from Fukushima is next on stage. But her second song I wonder off a bit. Then I spoke to her without hesitation and gotten a picture. I'm very glad I had that chance because someone that rare is too hard to meet up. As if Ai Shindo isn't enough because I was lucky to find her website with easy traces.
Once I am done with Noah I decided to meet up with Yoka. Unfortunately, like with Masumi Yoshinaga even though I never meet her in person, Yoka does not speak English very well so her translator is just take her place. Yoka's booth lets you write your special word on a Asian fan for $20 while postcards for $2. First I used my own camera then Yoka also uses her camera to take the same picture but switches the written art. Very smart right, I wonder if Masumi does the same but whatever. I never have the same chance ever again. In a honest positive way, I donated my $2 to Yoka as a generousity and appreciation to her.
Next is Yu Yu Dance Studio which Saori Kato and Tomoko Trinidad teaches her children into dancing. With Saori Kato in the way I chose NOT to talk to her even if she looked at me but I chose to ignore after the disrespectful incident on 12/31/2012. Finally, the 140 moms of the Fukushima choir. Now that's a lot!
Once the festival is over, Gosha was here and spoke to him. Hopefully, I'll be able to support UZUHI on November. And remember PIANOS is lurking on Halloween for Lulla Miyuki.