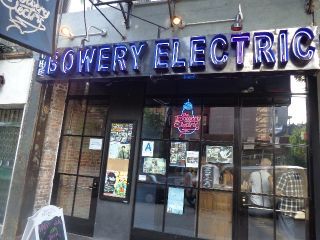 Last Sunday, we went to The Bowery Electric once again for the j-Summit event in the same day as Tanbata day. The rising performers are playing on stage with 9 of the greatest singers and bands and are playing for charity for the 16th time.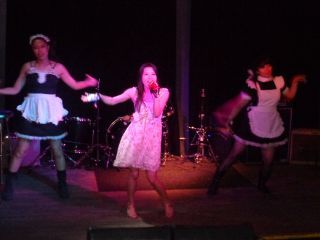 The story begins with ReniReni. I don't know if Agent Sato is present but I'm sure that wasn't him sitting next to keyboardist Tsubasa Matsuda. Tsubasa is expecting to play with Aki. When I'm trying to take a self-pic of myself, that cute girl found me but I cannot remember her name. In fact I didn't remember her. Currently I am no longer a fan of ReniReni since after August 2011 and February 2013 is when we both split up. Which means I am not allowed to talk to her or even touch ReniReni at all times including coming to her monthly maid shows and can't even dance with ReniReni on stage or even to allow to meet the dancers at times whenever a performance is held. When my former friend Chika tries to grab me and put me on stage with ReniReni, I declined. I haven't told Chika that I'm not ReniReni fan anymore and sometime I have to tell Yuko Ikeshita the same. Thank goodness Yuko didn't come over but the new maid dancer Kaori, I think? More on the details later on.
The second one is Megumi, this is my third time meeting her in person but she kind of reminded me of Setsuko. They both models and low level singers and created their original song. They both Japanese and dress in certain sexy clothes to make guys more attractive. Maybe I should meet up on Megumi's shows as much as Setsuko but not too much of a schedule.
The third one is Aki and she sings with keyboardist Tsubasa. Aki is also a dancer but I haven't collect information from her. After the show, this new maid dancer is passing flyers but I also now know that she is alcoholic. I didn't like Kaori already but I have no interests in following her. When I told her that I am not ReniReni's fan and torn up the flyer in front of her, she goes wahwah... And when I tried to ask her if she is a dancer other than ReniReni's Moe dancers, she couldn't understand my question. Kaori is pointless comparing to Yuko Ikeshita which she dances multiple types including with her partner Fuyuko Nakamura as Myu to Yu. Speaking of Yuko, it's best for me not to meet her while she is a Moe dancer and Saturday is not the day and otherwise more trouble on the rise.
Before Sumie goes on stage, ReniReni and crew decided to leave which is a good thing because there will be more trouble when ReniReni is still here and possibly continuing lying to her angels and making me a complete mockery. And what about Chika is she waving at me or she just waving to someone she sees. Anyway, since Chika takes too long to respond on Facebook, I decided not to follow Chika anymore either. Even if she dances with other groups.
This cute girl I mentioned earlier, it's about to begin while Sumie is playing on stage. To me, she does dress a bit better than March but this custom kimono outfit she wears really fits the stage. Last March she didn't wear a kimono at all. After Sumie finished playing, I started ordering red wine with ice on it as a suggestion to my good friend Lulla Miyuki. I've been on speaking terms with Lulla on Facebook about Jesus drinks alcohol which she studied parts of the holy documents. I've slowly consume the drink for each passing second for Tanga, then Nobu, and Yujin Amano.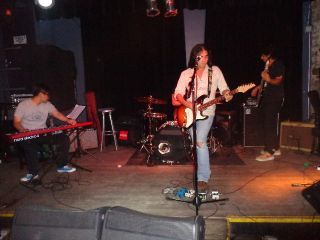 During in between Nobu and Yujin Amano, that cute girl shared my red wine and I chose to drink it. I'm thinking that I would discard it but I didn't. My body had no effect since I eat the veggies and other healthy foods so I rarely get sick once in a while. While the songs played, we danced and having fun and you know what else! I shared her white wine. It's too bad she couldn't stay for Shinsei but the alcohol effect is wearing off, even if I have a good mind, soul, and heart.
Shinsei played in New York for the second time since I first saw them in June 2012. They couldn't come to Stairway to the Dream for somewhat reason. They only played 4 songs and I'm really glad I got their wristband with CD and met Akira. This is my moment of my life.
Lust made a closing gig but it's been great to be part of this Tanbata night. Maybe my wish came true in my mind but not exactly what I would be thinking. I have no idea what activity I'm doing this Saturday other than Queens Crossing, maybe Coney Island or Staten Island.