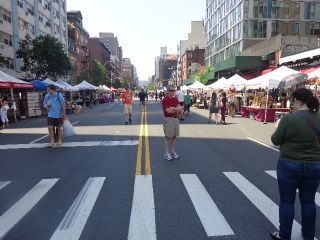 Last Saturday, I went to East Village for the Japan Block Fair event but something odd is going on. The main stage has been moved where the (L) train station is at 3rd Avenue-14th Street. As soon I arrive, dancers Yuko and Fuyuko as Myu to Yu are already on the spot. I am no longer call Fuyuko Myu-Chan anymore but now refer as Fuyuko-Chan.
b
The show actually starts 1PM so while time is ticking; I already had food at the Hakata Tonton booth. Best damn restaurant I ever ate. It's located at Grove Street where the (1) train at Christopher Street on the downtown side. I however did not buy Kirin FREE this time but someday I will find some Asian stores where to sell it. Muscat Cider is a non-alcoholic drink which they included in Hakata Tonton's menu.
Foxy Foxes went on first before Myu to Yu but some performances are really short. Natsuko is still not present. While Ako and 3 others are showing off some talents.
Performances are not the same with Yuri Bear is around singing and playing piano.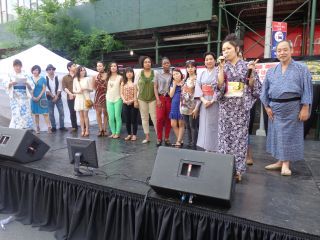 Next on the list is the karaoke contest. Contestants get to win prizes if they make it to the top three. Some sing Japanese songs and some sing other songs on the song artists list. Instrumental.
While the karaoke contest ended, Foxy Foxes once again on stage but with a fourth member that isn't Natsuko. Unfortunately, I cannot meet that member due to my assignment which I cannot leave the premises. I can never get a break, even if Yuko already leaves with Fuyuko but I couldn't leave her away without small talk. Most of the time I avoided some of the people and mostly Saori because of her disrespectful ways and more are going to be off the Facebook friends list. Speaking of Saori, I thought Yosakoi Dance Project 10tecomai will perform at Japan Block Fair but I was wrong.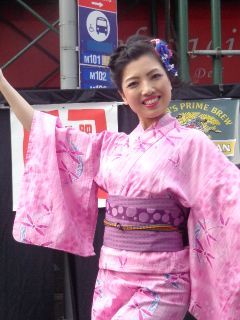 Other performances which include the martial arts demonstration and the kimono/yukata fashion show.
And the next person is Ai Shindo. Unfortunately, I have no interests in Ai Shindo but not to mention I have too many followers already. And NOB is the last person of the event. The next Japan Block Fair event is unknown but upcoming events will be planned for the summer 2013 year.