Last Night, I decided to take a two tour Valentine set-up events around New York City. First I went to Just Sweets and it's my second tour of the Apple Kissa Maid Café. This time, I have Chi as my waitress. There are no butlers around and I think it's limited to 5 maids per restaurant. I already have something in mind.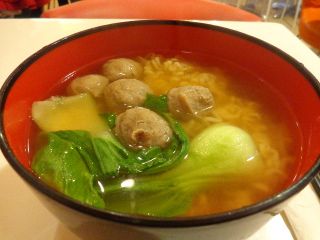 First up is the Sundae Ice Cream with caramel, flakes, whipped cream, strawberries, and a cookie straw that looks like a box but you can eat it. Pretty confusing right! Next up the tables is the beef ball ramen noodle, then the coconut bubble milk tea served cold, and mushroom dumplings. I'm not really sure but I see chicken inside so what's the deal. The Apple Kissa are very unique with sanitary utensils, whenever is dropped on the floor is given a clean one.
I almost left the place without a complete payment so I was miscounted so Chi was very responsible for stopping the customers. It's because of the memory disturbance which I was thinking differently. I came over and I left the place and decided to come over their worksite at Woodside, Queens.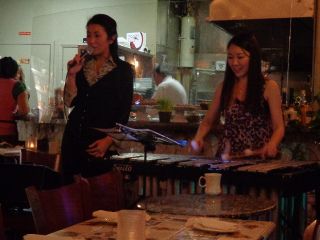 Every Tuesday, Mika Mimura plays music for the hungry customers at LaFlor restaurant so I don't need to meet them every week unless I have money or whenever it comes to me. Vocal singer Sumie Kaneko is also here as well.
I decided to take up a notch with my body so I hope I don't abuse it. In fact last Friday when I'm about to go to Pianos for Lulla Miyuki's show I was going to purchase and drink any light beers but it was cancelled. I thought it would be the time to join in the crowd but Pianos cancelled her show and cannot be rescheduled.
I ordered an Orange Muscat Wine with Mushroom Salad. I drank every sip but not every minute so I have to be careful so I will not become drunk and besides my mind is too strong to have an alcoholic effect. It may also damage parts of your body if you over do it. During the break, Mika mentioned that I was at j-Summit and verify that I was in Yukata. According to last Sunday, I have no idea if she's here so I didn't see her. Is it possible that she saw me on Reni's stage, or if I was in the floor taking pictures with Meg Bless, Maco, Akane Awaji or bathroom break? Anyway I show them my Oxon Hill, Maryland trip.
I had the second glass of wine but luckily the water was refilled. It's a myth that water removes the alcoholic effect but I don't feel drunk so I was really careful drinking it. I don't think it has more alcohol volumes than the Red Wine I tried to drink at j-Summit in September.
Drinking 2 white wines didn't make me drunk so I was fine from Woodside, Queens back to the Bronx. So what's for Valentine's night at New York State of Mind if I'm able to come over?