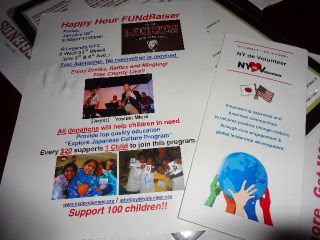 Last Friday, I went to Legends Bar straight from my worksite Coney Island where NY de Volunteer doing the Happy Hour FUNdRaiser event. It all started in the 2012 year on my first visit around June at Tammany Hall and I got to wear the Yukata. My first visit is with Tsubasa Matsuda along with Shiori Shinohara. Then the second time in October at Legends Bar, I have once again participated the second time with 2 performers which are Magician Rich Kameda with Singer Lulla Miyuki and won the watch in a raffle game with only 2 tickets. My third visit is quite different.
I have earned a lot of money on the Hurricane Sandy cleanup job and it's time for me to use that money to help 100 children in Explore Japanese Culture programs. Every $20 equals 1 child to join the program. So I have prepared this time with 2 Origami Earrings for $20 which is fan and crane shaped. I know Lulla already worn these so I'm planning to give them to some woman never seen or had it before. I hope it's not in the slap of the face but my mom should have it.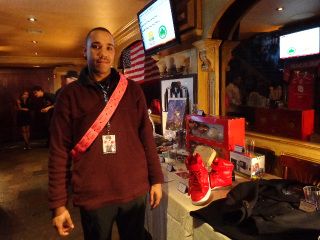 I threw in $40 for the 15 raffle tickets. So I started putting multiple tickets on the same prize and 1 ticket for each prize. When the 1st round of the raffles is called, 2 prizes are easily won and I'm not shocked that I won because no one throws their tickets in so it's the only ticket being thrown in. I was feeling a bit easy on the ticket holders so the prizes I received is the pink Puma bag which costs $80 and some Japanese clothing which is around $40.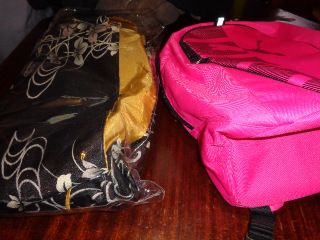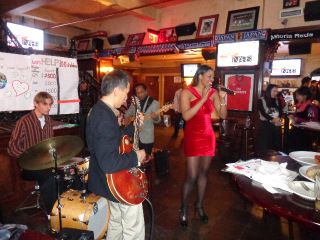 After the first round is over of the raffles, there is a live performance with Yoshiki Miura. Time goes as quickly as I continue eating my food and taking pictures. Then I decided to get the NY de Volunteer T-Shirt and brought 5 more raffle tickets. That's $30 more dollars.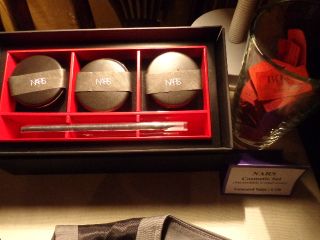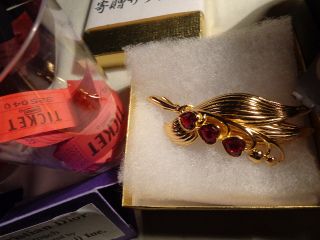 I wanted both the Cosmetic Beauty Makeup's from NARS and Christian Dior Jewelry and I threw multiple tickets on that same prize. By the way, the NARS Cosmetic item not sold in retail stores. These items are for a special someone's birthday gift from a female but I will not reveal that person's name. When the second raffle gets called with more tickets thrown in from other people, 2 of my wanted items I did not win. Sad and disappointed that I didn't win these expensive prizes for someone special I love the most.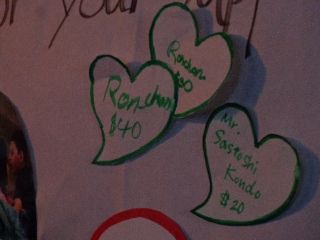 Before the event is over, $6 of my dollars is thrown and over $2000 is made. That bulletin board signifies that I supported the children's EJC programs. I had fun with NYdV staff and the people I met. The next NYdV event will be held in the end of March so I'll be looking forward to it.
Also, I think these pictures of my 2 raffle prizes may take about a week or a month to be uploaded on their NY de Volunteer Facebook page.