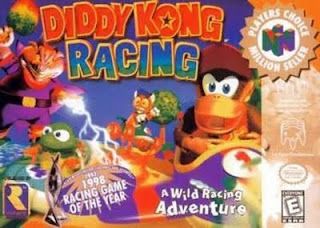 Diddy Kong Racing was an interesting game. It was first brought over from my neighbors before I own a copy of the game. Up to 2 players can play the game except Adventure modes, which can cause some glitching problems in save files. We even use magic codes during the game.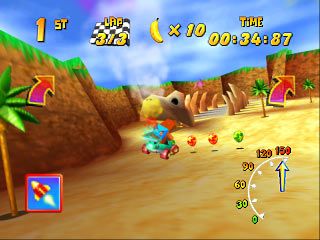 In Adventure Mode, you have to collect balloons and enter the rooms with the required number of balloons. This is just like Super Mario 64. Of course every game needs a first place, right! If you pick a well-played character like Diddy, Pipsy, TipTup, then you will most likely get you into the top. This game is almost impossible to beat. The game has hidden keys in course, which you can get them later and if you do while you quit the race, you will still unlock the challenge room where you get the TT amulet.
The challenge rooms are quire interesting for multiplayers. It's fun when you play against someone such as collecting 2 bananas and put them in your box, or eliminate players, or even gather eggs and hatch it in your nest.
After you collect all the balloons, you will face the boss and challenge you into a race. Once defeated, you will collect the Silver Coins in the same land. It is the most difficult challenge ever. You have to collect all 8 THEN WIN THE RACE. One of the worst courses, Greenwood Village is so frustrating that I have to keep restarting the same course and it took a lot of work to complete. There were too many close calls.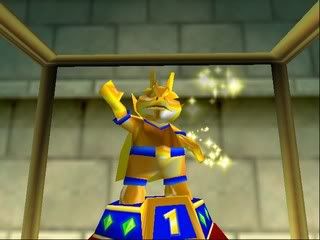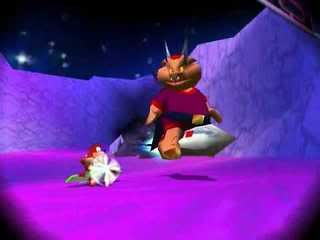 After you beat the Silver Coin challenge, you get to challenge the same boss for a rematch. The 2 hardest bosses were the Bubbler and Smokey. After beating the boss the second time you are able to compete for a Trophy Race and earn the Wizpig Amulet. Earning the trophy is one of the game requirements.
And now you have to face Wizpig. It is nearly impossible to beat him even with your best character especially TT. The only way to beat him is to go one of the zippers and launch the green boost by finger off the accelerator, and then just press the button again (don't hold it down, just tap it) as you cross the zipper. The flames at the back of your car will be green instead of pink, and you'll get an extra boost. Once you beat the game, you will face an extra course, which is Future Fun Land. Seems easy now!
The game's developer is Rareware and a remake game called Diddy Kong Racing DS with more features that wasn't in the N64 game. That game is too fun to play but sometimes gives an unfair advantage. To me, I think Drumstick is the worst hidden character ever.