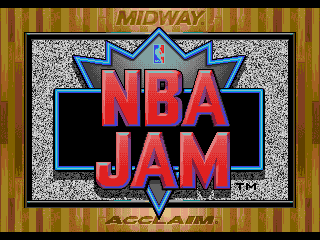 I remember playing NBA Jam in an arcade machine by placing quarters in a machine. As me being a sucky player, I knew I didn't stand a chance and there is no strategy involved. The game's publisher is Midway and the remake publisher to the ported consoles is Acclaim.
Unlike the EA Basketball games, NBA Jam uses 4 people and 4 players. Some shoots can catch on fire and has announcer commentaries. Of course comparing to NBA Showtime which releases later, they didn't have crazy slam dunks.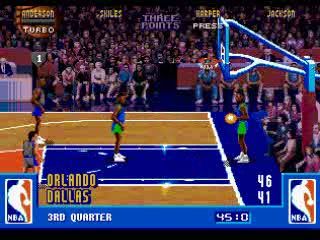 These screenshots are various ports of NBA Jam.
As I play the game in an arcade, I tried my best to play the game smoothly but the opponent kept getting better points than me. The losing team when the match ends must insert more coins to continue. That's the idea to earn more money for either the store owner or is being sent to the video game company. The winning team continues the game for a free credit.
I never actually got through the game as I run out of quarters during the halftime show. But I saw people play the game professionally. I kind of wish I reach that much far.
NBA Jam has secrets, only in certain versions such as the tournament edition. And some ports had different players. If you played NBA Jam tournament edition, you will play Easter egg characters such as Sub-Zero and Scorpion. There are many other characters in home consoles than the arcade version. However, the Mortal Kombat arcade games that kombat kodes works even in home versions of the console.
NBA Jam is now on the Nintendo Wii Console. A much smoother 3D game play from EA Games than the 16-bit arcade game produced by Midway. Now you can play the greatest action in high definition but it's still the four person game like the original arcade game.