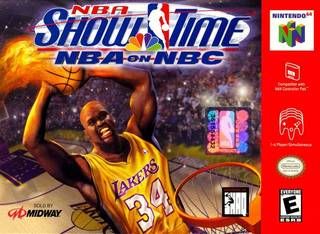 NBA Showtime on NBC is one of the un-owned games but my neighbor brings in a couple of times. The game is developed by Midway which also produces NBA Jam. Unlike most basketball video games, this game is aggressive and fun.
When you start the game, you have to enter the name and PIN code. This will unlock some character's stats and some cheat features. Before you start the match, just like Mortal Kombat you have to enter certain 3 codes even in 2 player option.
NBA Showtime and NBA Jam feels like you're really in a game. When you reach halftime, you either switch your new player or stay with the same player. NBA Showtime comes in flaming shoots or high flying dunks and nothing like most basketball video games couldn't even handle.
I played this game against a few opponents. Some are better players even their game owners are high skilled. We sometimes taught ourselves to make new moves and such other things. NBA Showtime can also have mutated players even in the Midway All Stars which forms their own basketball team. Of course you NEVER find those players on TV.
What I really need is to find their OST of the game so I can listen to those memories I used to play. I even like the street basketball arena which is my favorite unless I have to download the N64 Emulator and record the audio. Not sure if the game has it's own sound test.