Where do I even begin? It is the second Sakura Matsuri tour and the JAA Sakura Matsuri is one of the destinations that came to me. There has been a history with JAA and it has been a third time coming to their Sakura Matsuri in Queens. As the year grows it is always the same but a little different. Despite the cold weather, the Cherry trees are in a good condition. With some of the Sakura trees growing and dying at the same time, the Yoshino and Higan cherries grow first before the Kwanzan flowers, which is my personal favorite Sakura flower.


Comparing with 2016, I was originally going to plan a project but I immediately canceled it. Is it good to put up a picnic during the festival when you do not have your own permit? No, but people may find it strange. The festival never gets different but it gets the same every time you come over. It is not a bad thing, but sometimes you have to stick with the traditional Japanese performances of Taiko, flower dances, choir singing in Japanese lyrics and shaminsens. The Sakura Matsuri's main ingredient is actually Taiko drumming and the tea ceremony. At the end of JAA's Sakura Matsuri, they planted a new cherry tree with a plaque honoring someone in the JAA community. New cherry trees are being delivered to their planting tree in Flushing Meadows - Corona Park every year BUT I guess it is time for us to use their space to organize our own event. You may be thinking, what if I want to become a JAA member? To my knowledge, NAH! I did not want to join their community but the JAA are good people of the community.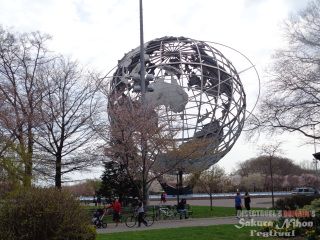 Beginning the festival, Soh Daiko takes the stage. Usually in Cherry Blossom festivals, the Taiko drumming got the people entertained. You may be wondering, what if COBU will make a debut to the festival. It is not one of the events where you get performers they chose only the locals that they could find. After Taiko, there is some talking. I have to admit that the JAA had good roles but imagine if I go to every of their events to see what the community really does.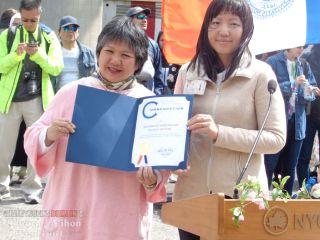 There is a small flaw, the food. I heard visitors making complaints but really, it has not been marketed really well. I never actually get their bento lunch, which is from Benton Cafe by the way, but in order to get it you must pre-purchase it. I noticed that Randall's Island had food trucks, but instead of having a donation to get bento, lunches they should have a food truck instead like most of the Sakura Matsuri events do. Benton Cafe now has a truck so it is not really much of a big deal for me. As the event continues there is JAA Chorus, the Ichi-Kai & the flower dance which is usually my favorite. Once again, I did not bother going to their tea ceremony. Did you know that the Parks Department of Flushing Meadows - Corona Park Co-Sponsored their Sakura Matsuri event by JAA?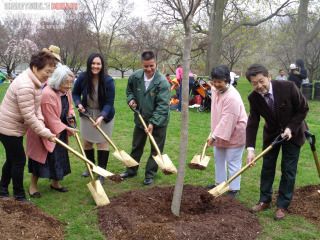 JAA Sakura Matsuri is okay, but really changed the community very well. Without JAA their cherry tree planting would not have the Sakura Matsuri in the past 13 years. It is also celebrating not for the cherry trees but the 110TH ANNIVERSARY! JAA has been around for multiple years and they are still going much like the Soka Gakkai International. I do not think there is anything else I should say about JAA Sakura Matsuri.
Now for the verdict, for the third TIME the jury has found the JAA Sakura Matsuri
innocent
. If JAA can celebrate their 14th anniversary of their Sakura Matsuri in 2018, I will definitely be there. After the JAA Sakura Matsuri, I did have a hard time finding the Magika Maid Cafe Cosplay Picnic, which is the real deal. It was not too bad that I was here for a short time. With Maid Cafe NY went down, new Maid Cafes are building in the city of New York.
In 2018, this is when I am going to take over! There will be a second Sakura Matsuri in Queens at Flushing Meadows - Corona Park. The event will not happen unless I obtain and approved my permit from the City of Parks Department which is required if I have an event with 20 or more people. The JAA Sakura Matsuri is USUALLY on Saturday of the 2nd or 3rd week but we are taking the SUNDAY SLOT. Can we do it, let us find out in 2018. See you in the next blog with Roosevelt Island.