After the Shonen Knife Concert, we are heading to Sakura Matsuri in Brooklyn New York. I had to say that it is one of the LARGEST Cherry Blossom Festival events than any other and it is held over 60 or more programs and not to mention that we visited 6 TIMES. In 2012 that is when we visit the Brooklyn Sakura Matsuri for the first time, 2013 is the only time we went TWICE, 2014 is once again going one time and my first visit to White Plains Sakura Matsuri, 2015 is when my brother took my place and is because I went to Allentown Cherry Blossom Festival at the time and last year it was COLD and RAINING. Brooklyn cannot be beaten by other Cherry Blossom Festivals which includes Randall's and Roosevelt Islands, NYU & Queens. Bronx is the ONLY borough that doesn't have a Sakura Matsuri and so is Staten Island. 2017 marks the 36th anniversary and Cosplay is been around since 2011. Looking at Barberton Ohio, their Cherry Blossom Festival is like an amusement park and marks the 60th anniversary. Maybe next year I should book OHIO. 2015 is also the year that Chiela is still in the USA because I assume that she came and went from Japan but I was wrong. She left in May 2015 and she was met at White Plains Sakura Matsuri.
What's so great about the Brooklyn Sakura Matsuri is the Cherry Esplanade which is the perfect and is once again good timing like with Philadelphia's Cherry Blossom Festival. The petals snow and create a walkway. I always thought that the Philadelphia Sakura Matsuri at Fairmount Park being a copy of Brooklyn Botanic Garden but there are a minor difference. It is also getting repetitive with Sachiyo Ito, Taiko Masala, Soh Daiko and others but that is nothing to complain about since traditional Japanese performances are part of the ingredients and without Taiko Drumming, there won't be a festival. I forgot to mention that Brooklyn Sakura Matsuri also the only festival that costs much higher than Washington D.C., Philadelphia, Long Island or Brookline's admission fees. Unlike anime conventions, you don't get discount prices by attending both days, YOU HAVE TO SPEND BOTH EVENTS AT THE SAME PRICE so if you are going both days you have to pay $60 UNLESS you are a BBG member which you always enter for FREE. I think I dissected this presentation enough so let's get on with my personal story.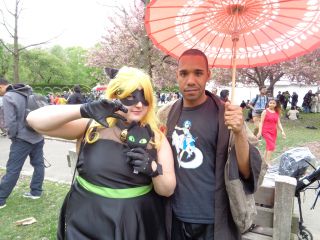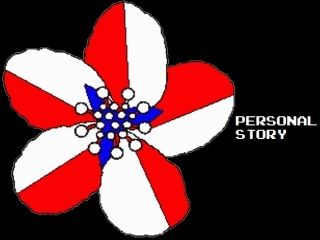 Captain Butterfly Cosplay
Coming back the 6TH time at the Brooklyn Sakura Matsuri makes me want to enjoy myself than last year and most of the time I explore around the area and take pictures of Cosplayers much like I did with anime conventions. Personally, I like Captain Butterfly Cosplay and Electrocosplay which I noticed immediately from Facebook and took a picture with a cosplayer. I rarely take pictures with a cosplayer and I don't do it often but to ask them for a photo. While taking pics with a cosplayer, I have to remain in a closed position only to myself. Yes the
COSPLAY IS NOT CONSENT
rule!!! One thing that bothers me is that some people don't ask me for a photo before I even make a pose and that is irritating. Few years back, I saw Akunei BUT originally I wanted to take a pic with Akunei sometime but she disappeared from social media.
I visited a few places such as the Bonsai Museum, the Japanese market which I brought my new red Parasol from which you saw me in a pic with Captain Butterfly Cosplay, the Rotunda where you see the Origami collection instead of the dolls and the visitor center where I used the bathroom. Unlike last year where I went to the auditorium and slept during the Tea Ceremony, it didn't happen this year.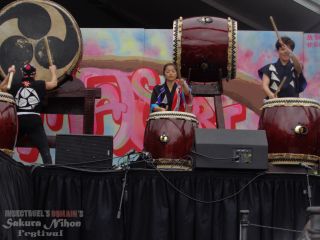 The only performance at the Osborne Garden is KuroPOP and that is it. Other times I hang around the Cherry Esplanade and sometimes I take bathroom breaks until the time I meet up with Taiko Masala.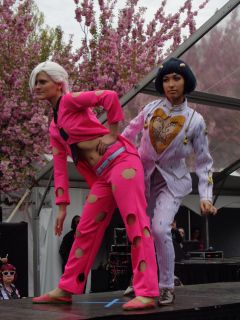 On the right, Onyxglow Cosplay.
The main stage at the Esplanade is given me some issues because people are always sitting down and people around the sitting area are standing up. I wish they have chairs like with Philadelphia Sakura Matsuri or the Queens Sakura Matsuri. The best show would be the COSPLAY FASHION SHOW in which the photographer like me
MUST BE IN STANDING POSITION
and up front of the stage behind the line. 2012, 2013 and 2014 year is the time that the stage is underneath the big tent and the rope is around far from the stage making it hard to take pictures. No one other than the press people goes past the line and to the stage.
Now for the verdict, there is no need to think that it's bad festival after all 6 visits. Of course they're
innocent
. I can never stop enjoying the Brooklyn Sakura Matsuri but what's in for next year, I don't know. Maybe I'll go to the Saturday Sakura Matsuri in Brooklyn again or will not visit the Brooklyn Botanic Garden next year. Whatever it is I am going to find out. This concludes this blog and I'll see you at Long Island Sakura Matsuri, the last one of the tour. See you then!