After all the Sakura Matsuri events this year and including this AWFUL NYU events, it has come to attending the first convention of the year after canceling Castle Point & Big Apple Convention. EmCon was originally going to be attended but it's also being canceled.
Last year when I write this blog and reviewed the convention, I was being a sad sorry face and alone and this year it has gotten any more different than the last. I am sorry for being so poorly to myself on the convention but now I am going to review it for the 2nd time. You expect Eternal Con would be has huge as Javits Center, but its big enough space for everybody including the planetarium theatre. Having a comic book or pop culture convention taking place in a museum is not bad at all. When you actually look at it and take a chance, it really feels like that you're actually in a convention. Now I understand why it states the largest convention of all of Long Island.
The first thing you notice is the long lines isn't as frustrating as last year. That's because Eternal Con included FRIDAY as the opening instead of Saturday. After you enter when you are NOT a VIP convention guest, you are received a stamp on your skin while 3-Day convention attendees gets a wristband. I never actually attended 3 days this year but that is because I only have the Saturday ticket. Of course that is the disadvantage because the stamp comes off in case for re-entry. I also noticed that Eternal Con staff never questioned about your wristband or stamp for panels and main shows. For most of the conventions I went, I have to flash my badge every single time to security. Keep in mind that the museum staff also worked for Eternal Corp so it's basically working for the same company. Eternal Con becomes less tedious than Winter Con but it's a family friendly convention. Admission is very separate so you will need to buy a different ticket that is not related to Eternal Con.
The showrooms are in 3 levels and are different than last year. The celebrities are now on the VERY top floor. Once again, you need to put away your camera while you're in the area. When celebrities saw a picture unauthorized, you tried to get away but there is a one second delay from security before you move, possibly evicting you from convention grounds. The second floor now has the artist alley and a panel room. The first floor has a lot of vendors and artist alley. The cosplay area is now at the space history.
What's so big about this year, 2 cast members of Zyuranger of Yuta Mochizuki and Reiko Chiba which I'll explain SHORTLY? That got the fans super crazy of meeting the casts from Japan in person. Why New York or Newark Comic Con can't have any of this. THIS IS THE REASON why Newark Comic Con sucked, it's still an awful convention back then and it's still awful right now. In fact it's now the same date as Liberty City Anime Con but that isn't going to help since its all-out war.
Here is my personal story, after going into the convention I immediately saw the person that doesn't welcome me on convention grounds. Probably because he saw my Facebook ads about the December 2015 j-Summit New York event but he's been sneaking on me on Facebook. My first activity is the Cosplay Runway show. If you read any of my Sakura Matsuri blogs, it's Philadelphia I am referring. After the cosplay show, I roam around the convention and taken a photo op with Reiko Chiba. Next person is Jennifer Rose, I had to say that I am quite jealous because I only met Yaya Han but Jennifer Rose seems to be the local cosplayer and model of New York City. Nicole Oliva is also a local cosplayer, model and soprano singer and she's not much of an interest. I ended up buying prints and had a picture. It isn't as bad as Yaya Han but next time, I SHOULD TELL PEOPLE TO HOLD STEADY TO MY CAMERA. Of I forgot YufieBunny, she's a cosplayer too.
Next part of the story is the Streetpass Game Show organized by the Streetpass of Long Island. It's a fun panel for people to play the mocked up version of Family Feud and you get to WIN prizes. During the panel, I actually do some personal checking!
Eternal Con is the only con for this year that bounces me back, whenever I got sad or angry, happiness just motivates me to keep going. I really glad that I got my friend to come and that matters. This person Reiko Chiba is completely at random. At the time I didn't care of meeting celebrities especially for voice actors just the image characters that played the roles. I really do not know Reiko Chiba that well and that's because I never grew up watching the original sentai series called Kyōryū Sentai Zyuranger. That show never existed here in the United States but came out as Mighty Morphin Power Rangers by Saban Entertainment. However Zyuranger did create SEASON 2 only to use the stock footages for the Lord Zedd saga for Mighty Morphin Power Rangers. When I was little, I always have a good crush with the character Kimberly Hart and not the actress Amy Jo Johnson. She was originally invited to Eternal Con of this year but Amy chose not to be part of the convention. If you remember last year's Eternal Con, they had Austin St. John, David Yost, Karen Ashley and Walter Jones. Big Apple Con or Wintercon ALWAYS has Jason David Frank. That really bothers me, what happened to TRINI? You know the Vietnamese actress? Her name is Thuy Trang. Why not bring her to the convention! Oh wait, she died in 2001? It's no wonder TRINI didn't exist at the time. Anyway continue!
When I got into Japanese actresses, I wanted to meet them in person. I was mostly interested in the Boys Over Flowers genre including the famous actress of the series Norika Fujiwara as one of the bully girls from the 1995 movie and Nanako Matsushima as Tsubaki Domyouji. When I heard Reiko Chiba coming over to Eternal Con I got to meet her in person and I did. By the way, Reiko Chiba played the role Zyuranger Pterodactyl named Mei. As a matter of fact, this is the FIRST time I ever met Reiko Chiba in person but don't get me wrong, back in SpringFest 2014 I met Mike Pollack (Voice of Dr. Eggman of Sonic X) but he's nothing comparing with out of USA or New York State celebrities. Maybe I want to meet Eric Stuart. Don't forget Monica Rial and Jaimie Marchi. I didn't care but they're random meet up but like I said I only care about the characters that played the roles. It's too bad I never meet and greet as a VIP guest but as being so generous I got her print included with an autograph and gotten a SELFIE with Reiko Chiba. She is so awesome and very nice at the same time. As for Yuta Mochizuki, NOPE I didn't bother but he does exist. Yep, he exists! It's the Internet that brought the world into fantasy.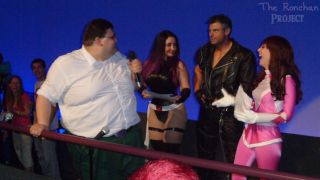 After the panel from Streetpass, there are 2 more. Okay so I talked a lot more than last year but don't get me wrong, Eternal Con is MUCH better than New York Comic Con. If there's a low tier con than ReedPOP's high tier con which has so many problems for the fans I'll go there any day. The last 2 are Empire Saber Guild and the Cosplay Fashion Show Contest which the BEST one of the series and I have a good time this year.
As the convention ends, the rainbow of death arrived. Yep, LJN TOYS decided to put up a booth for the Eternal Con, just kidding but things happen when it rains so hard and while sunny. So that's folks, here's Eternal Con. It was a wonderful convention and I highly recommend this one than Newark Comic Con and New York Comic Con. There are other New Jersey Comic Cons such as Garden State Comic Fest but its WAY TOO FAR and its taken place as Morristown New Jersey. NO THANKS! I don't have any other talk at this time so I'll take a break for blogging for a while. Thanks for reading and take care.