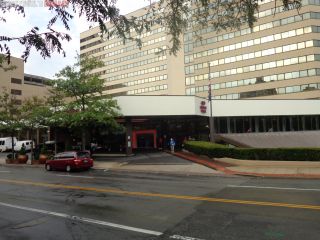 Hello everyone! It's time to discuss another convention related blog. Anime conventions leaves no introduction, it's got voice actor panels, cinemas, cosplay contests, maid cafes, hentai rooms, autographs, vendors, anime music and many others. It's one of the greatest franchises all over world. I got into anime conventions since Springfest 2011 when I followed MoeMiru but back then I didn't stay for very long. Then this year I went into Castle Point Anime Convention which is awesome and has a large amount of space.
There's only 1 anime convention that pisses me off, one that even a die-hard anime fan would hate it as well. It doesn't even deserve the name Liberty City Anime Con. Hell, it shouldn't even exist. And the worst part about it, is that it's taken place in the city of White Plains. Before Liberty City Anime Con exists, there was a New York Anime Festival which is at the Javits Center the same day that New York Comic Con was held.
This is the first time I ever gone to an awful anime convention but don't get me wrong, MinCon and Big Apple Con were pretty bad. But those conventions had their place in the New York State. Liberty City Anime Con however is defines the word anime, if you look in the word anime in the dictionary, next to it you will see that either they chose a mascot from deviant art or at random. Before I begin let me tell you this, Castle Point Anime Convention is far more superior to SpringFest and New York Anime Festival combined. You think it would be close to that but no, you get a complete piece of shit instead. Well as everyone say, I am about to explain the positives and negatives of Liberty City Anime Con.
The first thing I am about to explain is the positives. Throughout the whole convention I have to seek in the process of every single one. Since I arrive on the second day instead of the first day, at least there aren't any long lines and gotten my badge without a single problem. The staff confirms that they can pick up the badges very early before the opening ceremony. Another positive thing is that they kick unattended people without badges out of the convention.
After arriving and gotten my badge, I went to most of the panels. I have to say that the panelists are okay and doing a fine job. This includes the cosplay masquerade & the concerts. Sort of! The only fun thing I enjoy is name that tune which you can guess the anime song of ending and the intro song which allows giving you prizes. The cosplay dating game is fun but I didn't watch the whole thing. Another favorite panel is the abridged remakes of the original anime shows.
We mention some good stuff about Liberty City Anime Con. Now I am going to mention about the negatives and flaws of the convention.
First off, the convention space is really small and is poorly planned. Second, based on the program guide there is no map system. Just because it's small does not mean it's an easy access. Hell, even EmCon has the map system in the program guides and the convention is small in the East Meadow Public Library. The way the panel rooms are marked comparing the program guides and where to find them is completely fucked up. Another bad thing is the lack of security. In between times, you will see someone guarding the door wanting you to flash your badge. Let's say if you had a Friday pass and going into panel 1 on a Saturday without a security guard, you're fucked! That's a good reason why New York Comic Con has a tap in and tap out badges. However, only the upper levels you will see the badge guards in almost all scheduled times.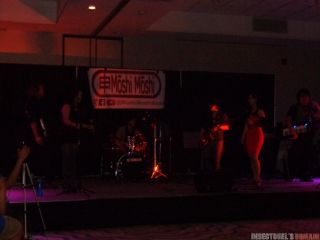 The Liberty City Anime Con staff members are sometimes negative. I could criticize their behavior but to us they are decent so it's not really a negative thing it's based on people's own opinion. However, they treated us nicely and did a very good job staffing the convention to make sure it's safe which actually a positive thing is. Here's another flaw, the dealer's room. Castle Point Anime Convention made it clear that there is no photography, Pokémon battles, eating, sitting and drinking inside the dealer's room and of course in all conventions that shoplifting is illegal. Liberty City Anime Con however is NOT! Because they didn't copy something from Castle Point, photography is still legal and not much staff guarding around. Speaking of the dealer's room, did you know that some vendors are at the lower level? That is a MAJOR FLAW especially if the vendor is a celebrity like Xena. Eternal Con had the celebrity area on the 2nd floor which makes photography illegal in some areas and Big Apple Con is the same way too. People taking pictures of their artwork is a big issue for copyright holders. At least there is an autograph room.
The food in the game room, I stole something and didn't notice the sign say STAFF ONLY. That should be improved. I said this earlier but they do not have their own mascot like SpringFest or Castle Point Anime Convention. Castlepoint actually wins this one. The bad about small anime conventions is NOT having a maid cafe. That's okay because I'm sure it's for safety reasons to prevent the maids from being sexually harassed. The coat checks, not sure if Crowne Plaza has one!!! The concerts is AWFUL! It's not like j-Summit New York or any other big concert event but should the musicians have their own room. Why the hell we need to leave the room just for a singer to set up like 20 minutes. It's no wonder I left before Reni gets to play. SpringFest IMPROVE on concerts and it gets set up a few hours, hell MAGFest is better and it's a music gaming festival.
Speaking of Reni Mimura, I have to explain the story about her at Liberty City Anime. After Reni came in before her panel started, I quickly tried to leave. I don't know if Reni knows who I am but whatever. Reni is once again up your ass in this one because I didn't bother to see her at all and most likely trying to avoid her.
You know what; I don't think I need to explain much of Liberty City Anime. We all know that it's poorly planned, the convention space is too small, lack of badge security in panel, game and autograph rooms, music stage needs to be set up upon finishing, vendors outside of dealer rooms, no map system and a fuck ton of other things.
Liberty City Anime Convention is not just awful, it's FUCKING HORRIBLE!!! And I can't believe this god awful convention gets a good success on it. It has been planned for 1 and a half year after New York Anime Festival being closed. You think it's their first one but no, it's completely terrible after all the flaws I reviewed. If Liberty City Anime Convention actually have their 2nd annual, get ready because I'm hoping that they will IMPROVE over the first one with better convention space as well as some other add-ons.
That's everything about Liberty City Anime Con and pleaded GUILTY for making a small anime convention as shitty as Mineola Comic Con. There are 2 bars & restaurants that is in my list, one is Lanza's Restaurant and the other is Rockland Music Hall on my next blog. Take care.
By the way, The Akabane Vulgars on Strong Bypass was originally planned for a blog but I decided not to write a story on it. It's too personal.