You know when I go to these conventions in 2015, there isn't a decent convention I ever went to besides Castle Point Anime Convention and this is of the greatest ones. However, recently I've been talking so negative that it's actually the truth. With Liberty City Anime Con & Newark Comic Con didn't perform very well on the first try there's a convention I recently went to and that one is kind of my genre of video games and nothing but video games. Ladies & Gentlemen, I bring you A Video Game Con. Now, I wasn't planning on telling you the entire story just to give a clear review of the con. You are about to find out!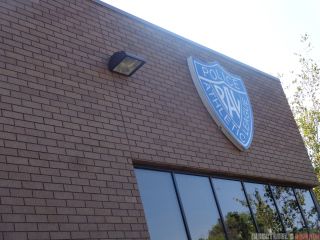 Before I begin this blog, just to let you know that MAGFest is the only previous video game convention I ever went to and so is PwnEm Con. A Video Game Con is different than the other. Now you're about to see the first improvement over Newark Comic Con. As you can see right away, A Video Game Con actually have a map system? Of course this is because the AVGC Conheads own a bigger space but still, an improvement nothing less but is it enough? Well, sort of! But anyway, since you can wander around the convention area including the parking lot.
The lines aren't that bad but it's quick if you're patient. Unlike Big Apple Con and Eternal Con with these massive long lines that takes 15 to 20 minutes to enter on the first day it opened, it's decent. However, I never mentioned Newark Comic Con about the line but it's quite small since people picked up tickets in advance.
This next part of it is just being personal, you see most conventions including Newark Comic Con and Castle Point Anime Convention give you badges to wear on your neck but with A Video Game Con, they only give you wristbands to wear and what's with it. I also notice that it has 2 colors but luckily those wristbands never come off. Come on, wristbands are only to be used for concert venues and drink purchases. I'm not going to complain but A Video Game Con has a reason for wristbands. Similar to MAGFest, there are colored wristbands that verify your age. So if you're 18 and over you get red, but if you're under 18 you get green and that is because there are panels 18 and over. With MAGFest, even if you have a badge, they also give you a wristband to wear to verify the age so if you're under 18 you get green, 18, 19, & 20 year olds get blue & 21 and over get red. The Gaylord has alcoholic drinks to purchase which is the reason.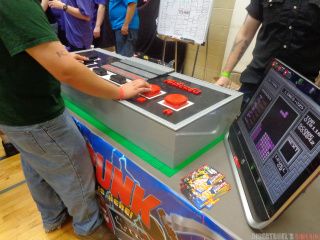 The first part of the review is the vendor area which are dozens games you can sell including consoles. It's quite good if you're a video game collector and want to collect games and consoles, this is the best method. However this review has nothing to do with the convention itself. There are 3 or 4 vendors that sell reproduction games of fan translations, unreleased and romhacks which is quite useful but the main problem is collectors aren't familiar with it and there is a copyright issue when selling games that owned by copyright. So what the hell did we do? Did we romhackers abuse the world of retro gaming? I also noticed that romhacks are VERY expensive than retro games and you know why? Retailers are NOT ripping you off which is an incorrect reason. It is because the donor parts they used cost them money. For example, if you use a MMC5 donor and used it to build an NES there is a WHOPPING price on a game.
Originally I was going to bring my own console for convention attendees to play my romhacks but I didn't register for a table and also planned very poorly. Eventually you will run into a convention that makes reproduction retro games illegal to sell because they are counted as bootlegs including unlicensed retro games and homebrews with copyright content. Liberty City Anime Con CLEARLY made that rule that bootleg merchandise is not allowed on convention grounds. Anyway continue with the review.
The second part of the review is the freeplay console room. Well you have a bunch of games & consoles to select and including tournaments and because the convention space is so large it makes sense because that space is being reserved for people that wanted to play. It's also a great way to make friends even if you're a pro player. The freeplay console room is good and I love it.
The third part of the review is the arcade freeplay room. You see there's an arcade machine of fighting games, pinball machines, shoot 'em up and side scrolling games. During the afternoon there's some concert shows while you're playing. At MAGFest the concerts are completely in a different room. Of course there isn't a merchant booth during and after the concert shows. However you may think that A Video Game Con didn't have any flaws like with Liberty City Anime Con & Newark Comic Con. Well, there is only 1 flaw of the convention I found. This arcade machine Mortal Kombat 4 requires coins to play! What? Come on you are not supposed to require money to play the machine, there's a reason why it's called the freeplay room. The people responsible for the machine are Video Game rescue 911 and here's why. The machine WAS set on freeplay but because it was slipped on the cracks the machine goes on by default. They could have easily fixed the problem but no; half the people don't get to play the game.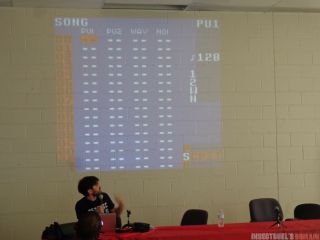 The last thing I want to talk about is the panels. Before I get to that, at least A Video Game Con provides us some food without leaving convention grounds. Would it be awesome if they have their own maid cafe? Instead of French maids in dresses or butlers, people cosplayed as their favorite video game characters to serve you food. I haven't checked much of it but I did go to one panel and some exhibitors who run the panels didn't play by the rules. Comparing with MAGFest, The Angry Video Game Nerd actually uses the game console to let people come up & play the game which is back in 2013 but why Emulators? Don't you know that owning the ROM on a PC is illegal?
I have to say that making Gameboy music is a good panel and so is the Cosplay Contest. Everything went so smoothly. By the way, did you know that A Video Game Con is the ONLY video game convention that actually has a Cosplay Contest? Comparing with the other ones including MAGFest, they never had that. Not to mention that AVGC didn't have any huge celebrity guests like Kinuyo Yamashita or Pat the NES Punk so that's okay. Even so, they need a room where they sign autographs so there is no need for celebrity guests in the convention.
Now with the conclusion of the story! A Video Game Con not only the convention at Parsippany New Jersey but it's the BEST convention I ever went. Comparing with the miserable Newark Comic Con which is a piece of shit with too many errors I mentioned in my last blog, AVGC gets its replay values. I'm hoping if there will be a next year BUT there will be a next year. The final convention I am going to is Wintercon at Aqueduct and I'm hoping that it's going to be good. See you there!