Comic Con! The conventions where people get to take a look at comic books, dress as your favorite comic book superhero, and meet your comic book creators and celebrities. It's very awesome and it's really popular to comic book geeks who love collecting comic books. People have a debate whether Marvel or DC is the better comic book publishers or superheroes. It is intended to become part of pop culture all over the world.
Like many other comic cons, there are many of the comic cons owned by ReedPOP which is Emerald City Comic Con in Seattle and New York Comic Con in New York City and San Diego Comic Con International is completely different company owner. However, not if New York Comic Con is held in New York City by ReedPOP, there are 2 other comic cons that were owned very differently in New York City. One is Big Apple Convention & the other is Wintercon which is introduced last year of 2014 at the Resorts World Casino. Both of these comic cons or mostly the Sci-Fi based conventions are great. I enjoyed Wintercon a lot especially with Yaya Han but it's great to watch the shows and meet the cosplayers including the vendors. At first, Wintercon wasn't such a big deal but its fun once you get used to it.
Downtown City Comic Conventions are proving to be successful, except one! To continue spreading the Comic Con popularity around the east coast of the USA, Mark D. Boulding created his own Comic Con in Newark New Jersey known as Newark Comic Con. It is intended to be an inspiration to New York Comic Con. Was it successful? Well not quite, meaning IT SUCKS! This is coming from personal experience because I brought the convention for $35. I was hustled! Newark Comic Con was on hold because I had to pay the medical bills but I did brought it on time after A Video Game Con package & Liberty City Anime Con. It sucks because it has too many fucking errors but I'll tell you these errors in the moment. This could have and should have been an awesome convention. This was a no brainer, yet they somehow dropped the ball. How could they fuck this shit up so badly! And in term, the convention space wasn't as roomier as the others.
Before we get to the actual story, let me tell you this! Newark New Jersey is the sisterhood town to Manhattan New York City. If you own a TV, you notice that both My9 and MyFOXNY are owned by the FOX Corporation. FOX 5 is WNYW while My 9 in Secaucus New Jersey is WWOR. Back in the 80's WWOR is so original that it is not related to any of the FOX programs including primetime shows. WWOR used to hold comedy shows and movies until UPN (United Paramount Network) comes along until 9/11 when WWOR merged with the FOX networks making it the sister station. My Network TV which its own network comes in around the 2010's.
You think that Newark Comic Con will outsmart New York Comic Con with the same exact programs but there are more differences between the cities including Wintercon and Big Apple Con. However, let's discuss other comic cons outside if New York City. I did mention that Mincon really sucks in my previous blogs and you know why. First off, Mincon in Mineola is not a bad convention but it's not suitable for adults. Mincon is mostly designed for kids and teenagers and it's held in a public library as its own convention space. It's an all age's convention but older adults are really not enjoying it. EmCon at East Meadow is NOT the same as Mincon but it's quite fun and interesting. Eternal Con was an awesome convention and it's great in a decent convention space including great shows! Enough talking about comic cons in New York, let's get with it in Newark New Jersey at the Best Western Plus Robert Treat Hotel.
The first thing we should talk about first is the positives before we get to the flaws of the convention. Now first, I should let you know that an awful con like Newark Comic Con makes Liberty City Anime Con a masterpiece although Liberty City Anime Con had small errors but it was a good success and I'm looking forward of coming back. Beginning with the Artists Alley, it had a good amount of space and that's the way the TRUE comic con is supposed to be. You get to meet comic book authors, vendors, exhibitors, and artists. Some artists restrict photography on their drawings or their merchandise but I don't blame them. NCC should restrict a rule that photography is not allowed on the Artists Alley like with Castle Point Anime Convention. Of course New York Comic Con has like 38 aisles of space but that's nothing to complain about because Javits Center is huge.
Here's another improvement comparing with New York Comic Con. The tickets you selected can be brought online and the day of the event to pick up the badge at will call. Too bad the badges are not decoded including the tap in and tap out badge entrances like with New York Comic Con. While these comic cons like Wintercon, Eternal Con & Big Apple Con just gives you wristbands which can be frustrating. BADGES are BETTER!!! Newark Comic Con badge pickups makes New York Comic Con look stupid.
The second best thing about Newark Comic Con is the game room sponsored by A Video Game Con. The games are enjoyable to play and it's great to entertain. Does New York Comic Con have a game room? It sure does and it's sponsored by a 3rd party gaming company. Third, photography isn't that restricted in the hotel lobby but it's great if you want to take pictures AWAY from vendors and celebrities. That's all the positives are Newark Comic Con, let's get with the flaws.
The first thing you notice after you enter the convention is the lack of sign placement. People often confused which room they should go. Another thing is that the badge pickups should have been somewhere else near the exit entrance. Liberty City Anime Con shows a lot of promise on badge pickups. You'll notice that there's open space where people bypass the doors but there are people in the red shirt making sure that everyone is wearing badges on their neck. There's also a back entrance where people without badges can enter. These doors should have been locked. MAGFest was a big hotel convention but they had guards at the entrances making sure people without badges or unchecked weapon props are not allowed in. Other issue is lack of security and it's just like Liberty City Anime Con folks. What I heard is someone stole $300 worth of vendor merchandise at the convention. Maybe someone is outsmarted the vendors.
Speaking of sign placement, did you know that they didn't create a program guide? This is once again with Liberty City Anime Con that they don't have a fucking map system even though it seems easy to navigate. Smaller comic cons in Long Island New York like Mincon and Emcon actually had a map system and a program guide.
You know the WORST thing about Newark Comic Con? The Military Park Performances! At 12:00PM Moshi Moshi are supposed to play but what happened? I didn't notice any signage until as late of 12:30PM or something but I was confused. I don't know where the musical acts are but maybe they performed in some other park I never even heard of. Then it went on and on and on! When I was at the game room, I heard the announcement that Moshi Moshi are playing at 2:00PM. WHAT! You mean they started playing? Ladies and Gentlemen, Newark Comic Con DID NOT properly timed the schedule and it was unprepared the whole time. Then The way of the Flesh came in after Moshi Moshi. During Moshi Moshi's performance, they had to quit because of the rain. ARE YOU FUCKING RETARDED!!! They should have held the concerts INSIDE the hotel but what's with that? Maybe the Crystal Room is already used as a space. Not only that, they should have a tent for the performers also to prevent them from getting wet. Then, the other performers that supposed to play like Ryu Black & Thagatanegrra are cancelled and the Zombie Walk didn't really happen. So it was a HUGE disappointment to Newark Comic Con so far.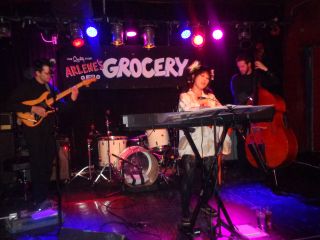 Lulla Miyuki with band members Michael Biskup (Left)
and Jack Breslin (Right) at Arlenes Grocery.
Imagine if Lulla Miyuki had a performance act on 11:00AM at Military Park, then you started preparing equipment around 10:30AM until it malfunctioned and takes too long to fix the problem. Then Lulla's performance gets to play at 3:00PM which is really late for her to play after all that waiting including her show had her time skipped after other performance acts. She could have leaved the place and dear costly. Even so, I hang with her the whole time because she and I are friends.
What is unexpected is the Artists Alley being closed WAY too early before the convention ended. They don't have the closing times which is completely unprofessional. Some panel rooms are also closed too early as well. One of the Short Films room is The Last Dragon - Watch with Taimak NEVER even happened because it is NOT already on desktop. What the bloody hell? Did you REALLY have to download the movie from the torrent website on site? The good thing is you don't have to pay $5 admission. I don't know what to say folks!
The last thing that really irritates me is the Cosplayers Ball at the Crystal Room. You got to be KIDDING ME! If the cosplayers already signed up, WHY THE FUCK DID THEY CREATE A NEW LIST FOR IT! The Cosplayers Ball is not a bad event but it was okay. The show itself is great and I enjoyed it. TOO BAD we can't stay after the show!!! The time says 8PM to 11PM but I left the place around 9:30PM which is appropriate but they could have partied any longer. Also, I never watched the cosplay contest at New York Comic Con and that's because you need the VIP Badge to enter to watch the show. What a letdown!
Ladies and Gentlemen, you'll explain why Newark Comic Con has too many errors. It's unprofessional, unprepared, disorganized, bad timing, and the convention was planned very poorly comparing with Liberty City Anime Con. Here's the fact, after 2 years Newark Comic Con was supposed to take place at the Prudential Center but instead we get a small hotel to roam around.
After I posted my negative feedback to the Newark Comic Con event page, the owner Mark D. Boulding chose to block me on Facebook which is completely unfair. Before I was a NCC participant, Mark D. Boulding friend requested me on Facebook and I accept. The reason why I accept because I thought I am going to meet Mark in person and I saw him several times during the convention including after the Cosplayers Ball at the Crystal Room. I wanted to talk to him about the con in person but it never happened. I take Facebook friends very seriously. Here's one of my true stories about Facebook friendship.
Sumie Kaneko
In December 25, 2012 I met Sumie Kaneko at La Flor for the first time on Woodside New York. I met her when I followed Mika Mimura. After seeing a couple of performance acts, I brought both Mika & Sumie's CD on the same day. Sumie is such a great friend and she friend requested me after I brought the CD. I wanted to friend request her but meh, I accept because I already met in her in person. During that period, I started following Sumie's performances including her j-Summit New York event. Sumie and I are great friends and I support her a lot. So this is why I DO NOT ACCEPT people on Facebook before meeting the person. Even NY Sci-Fi Fantasy friend requested me TWICE after I said NO and I blocked the account because the Facebook profile was a brand company instead of a real life person. Hell, even on May 17, 2011 I friend requested Lulla Miyuki on Facebook after she liked my Facebook fan page (Insectduel's Domain) and met her in person on the same day. That time I was Reni Mimura's fan before Lulla and I are met.
I'm getting ready to do a Facebook purge by deleting all of my Facebook friends that refuses to meet me in person for Lulla Miyuki's show on September 26, 2015 and I'm not going to keep those friends that refuse to meet me with Lulla. She needs a lot of fans including supporters. So that's the story of Newark Comic Con and I am NOT coming back next year after the owner blocked me on Facebook. If I want to return next year, then you have to unblock me from Facebook. It doesn't make a difference if the next convention will be held in Prudential Center. It needs to be a huge improvement and undo the damage that was performed very poorly.