Hello everyone, when you think about festivals they give you performances, food, vendors, raffles, & games. When we went to the Sakura Matsuri events during the spring season, they celebrated Japanese culture along with blooming Cherry Blossoms for all types of ages. But when we come across another Asian festival other than the Korean Parade & Festival we went every October, and boy that was some kind of festival that celebrated with one culture and ethnicity. The festival I am talking about is the Taiwanese festival known as Passport to Taiwan. Start this damn blog!
You know what; let's write this blog in Sakura Matsuri style. Ah forget it, not this time. The first thing you notice is a lot of food vendors serving all types of weird food and snacks. At least it's tastier but the problem is some isn't cheap. Almost most of the volunteers are Taiwanese. Other vendors will include raffles and other business activties including Eva Air & China Airlines. In the past, there are people performing such as Uzuhi, Cobu (I think), and of course their own Taiwanese vocal singer of the band is NoriceuR. I haven't even remembered much so let's move on.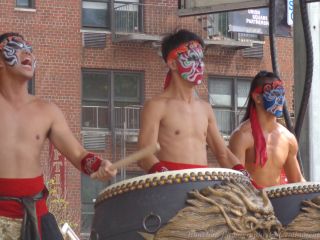 The performances are like Chinese style. I am not used into this stuff and its takes time to get used to. By the way I arrive around 2PM. They're bad but repetitive. The raffle drawings are also decent. They give you an email because they know that the people that buy tickets decided to leave.
Overall, the Passport to Taiwan event is decent and it's one of those near summer events that people would enjoy. You see many Asian people enjoying the food & the performances. I have nothing else to say to I got to go. See you soon.
By the way, I won't write a blog on Smile NYC at The Producers Club.