Hello everyone, it's time write something more personal than before. For some reason it has gotten in a lot of trouble so this blog page may close down and make some edits. For the 10 years since my website Insectduel's Domain has opened up, my personal blogs has gotten worse. That is because I was focused on ROM-Hacking a lot. I have no regrets of what I've written. I just wrote something personal without critic or something like that. I would have been slapped in the face from someone who reads it but it's best to stay out of the way. Now let's discuss about the events from a week after Sunrise Fest.
I already talk about Yatsumi Murakami's event which is at the Branded Saloon. Her band is awesome but I didn't stay too long for the next band. It was okay but well done. I also didn't bother getting anything from there.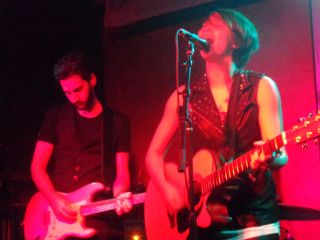 Next is Mariko's show at PIANOS on the Showroom lounge which takes place February 11th. The stage is okay and so is her performance. What bothers me is this lighting and is completely blocking her hair and also having trouble shooting my photography shots. Mariko's show is always good but I am expecting more from it. She even had her new song, I think but I don't remember.
On Valentine's Day in Harlem where Setsuko had her gigs at the venue called The Shrine, it's kind of okay but way too entertaining. Once again, I chose to avoid the alcohol drinking and choose soda. However, I wanted to purchase bottled water but it's not there. Besides, why would you want to drink anyway? People are so ignorant which is why they aren't allowed to drink to impress your friends. I didn't stay for too long and decided to leave.
Next venue is the Tokyo Tapas Cafe where Misa and Senri had their duo concert. Why would I not meet Misa Ogasawara after Valentine's Day? The title is called The Recipe of Love. All I had is some burgers but originally I wanted soda with it but it never came. My tongue was burned after drinking some hot water because of the freezing cold weather. At the end of the event, I made a mistake so rather than tipping small but large. What a cruel punishment for a simple mistake I did.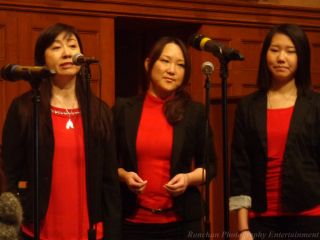 Here comes the last one, actually it's a daily church service so I'll discuss it anyway which is last Sunday. I am at the Middle Collegiate Church where the morning service celebrates Chinese New Year. The Asian choir sisters Rising Sun make their singing performance so great that the same members of the Middle Church Jerriese Johnson Gospel Choir rehearse their voices every week.
That's all the blogs I covered for now BUT, why did I chose to do this? Why do I point out names for no apparent reasons? What if I am caught and got slapped in the face and why do I continue lying? Now that this is out of the way, there is something unusual that was recently requested for some name I edited off my last blog and other blogs I mentioned. Like I said,
I am planning a massive shutdown and only be reduced to conventions, video games & Japanese festivals.
All personal blogs, raves, rants, disses, and inaccurate reviews must end. Whenever someone asked me if I had a blog, I usually show it and DID NOT realize what I wrote. Oh shit! What if someone I showed to already read it, but fuck it! That is why these edits must be made before or after they read it. I've been requested to write this blog on some art exhibit I went last night on Grand Street Brooklyn and this time, NO MORE FUCKING AROUND! Let's make it clean so people who read it that don't give a damn of my own critics. Blogs are supposed to be private and personal and not to be used for your commercial use without my permission and also not to be shared to other users. Thanks for understanding!