Hello everyone, it's the year 2015 and these places I can never stop going. Let's begin with the place I already went last Sunday and it's the Domaine Wine Bar.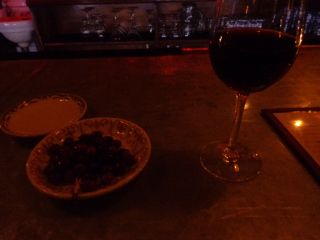 I already mentioned in my special blog that it's bad, as in Muchmore's bad. Well I haven't brought any alcoholic beverages so I don't know. I also mentioned that ChoGa started restricting alcoholic sales without ID so anyone trying to get alcoholic beverages without ID must have one in order to buy one.
I have to say that the Domaine Wine Bar isn't too bad but it still needs some improvements. However I did found out what's behind the counters while I sit down and had my olives and wine. I consume it slowly so I can't get hurt. Remember my last blog about the Cranberry Vodka; well I am not going to repeat the same mistake.
There are some bottled water and soda behind the counters, how could THEY do this? There are people who don't drink alcoholic beverages and trying to meet people. However, one of your friends is an alcoholic drinker so don't expect your friends are non-alcoholic drinkers. There is a reason it's called a WINE BAR. So what do you do, should you not drink or you rather take on the shit and join the alcoholic drinking club? People suffer with this crap. Why buried the gem and dig up the turd. Anyway let's get on with it. Misa and Senri and the Domaine Wine Bar also known as Domaine Bar a Vins.
There isn't much people so it's kind of half empty. I wish I can say more about the show, but there's nothing to say. You sit around, drink, and watch performance, that's it! The performance is great if is done well, but this isn't no ChoGa this bottom of the barrel sightseeing trash. The seats are lousy and there's zero lighting camera strategy. However, one of my flash photography shots is malfunctioned during the second set of the show. When you take a flash shot it literally blinded Misa, well not really. In conclusion, Domaine Wine Bar is embarrassing for me, not the place itself.
One more story and it's the one from last Tuesday. Mariko and Rockwood Music Wood Hall. For some reason it says Marico, what they can't read the simple letters of the Japanese alphabet. To me, I remember coming there when I hang with Michael Biskup. About the show itself, it's no cover charge but what I hate is when the waitress comes up to you and gives them tips. It's very reasonable because the musician wants to get paid but it's annoying when someone comes up to you. It's not the same when the church ushers comes up to you to give them an offering. Mariko dress up in punk clothing her shows once again really kick ass. Then my destination is ChoGa but when I saw the bulletin boards it's already been canceled. Yatsumi Murakami's show will be announced as planned.