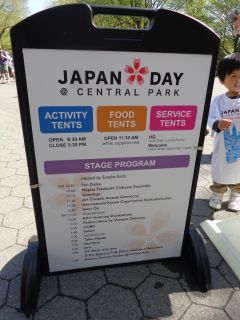 Japan Day at Central Park is that time of year that takes place every Mother's Day and this year hasn't even changed a bit except the 2011 year. Comparing with last year or any other year, there is free tea, food, snacks, origami, yukata try on and more but 2 new activities.
Grabbing the mocha black tea is a start but one of the new activities is the railroad which can give you information about New York to Washington and others. You can also try to get a free prize. Almost the entire time, I spent the entire time waiting at the bandshell.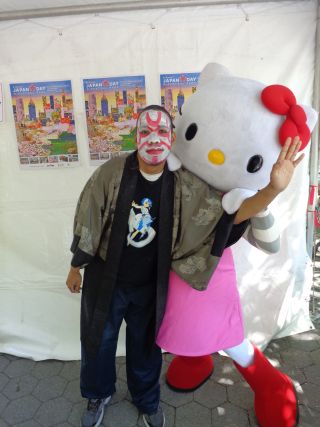 I've been watching some performances and trying some activities. This year, I did face paint kabuki face with white and red paint. Have a picture with Hello Kitty and an all new activity which is News Report with Domo. It's an activity when people pretending to be news reporters and you get to take a picture with Domo with a specific background.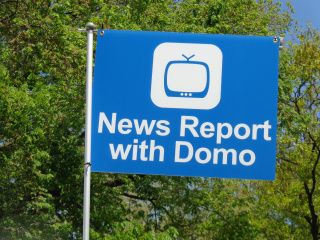 The food service isn't improved at all, the line is extremely long for some but the Miso Soup is decent. All other foods I cannot get to and is sold out very quickly. This is a selfish activity as people are trying to be ahead of the line for a specific performance. They should have more cooks or something like that but the food service is not improved. Well about the tea, every food line has tea so why the free supplies.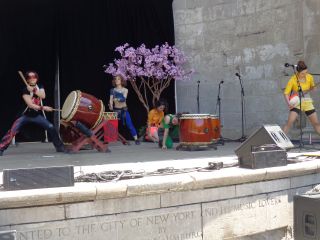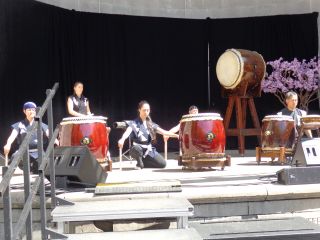 The 2 Taiko performances are Cobu and Taiko Masala. I won't be bothering meeting people this time. While I watched the performance, an unexpected surprise that comes over to me and had unexpected copyright issue discussions. Let's not tell who that person is. The rest of the time, I watched the swimsuit modeling, a guy singing, an actress singing, and some dancing along with a fortune cookie video. While walking around Central Park, cherry blossom trees are already lost.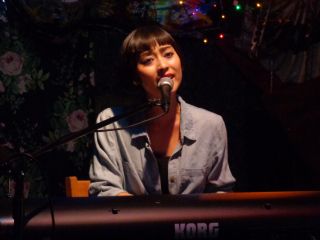 I couldn't get some sleep, so I had to go to Good Bye Blue Monday around Broadway for Sound Bee and IRI. Because I am going along Sunset Park, I have to walk over after the show is over. Going to Sunset Park requires being an early bird travelling.