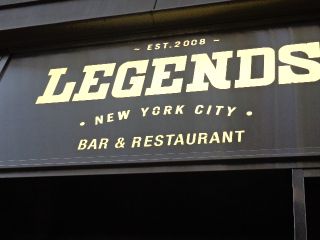 Last Friday on the 19th of April on the 2013 year, I went to Legends Bar and this is my fourth visit of NY de Volunteer's Happy Hour FUNdRaiser event. I was in the NY de Volunteer T-Shirt I brought since January 2013 and I have managed to once again meet the people I met people before even the newer staff members. It all began by buying $40 for 15 tickets to help out 2 children in Japanese lessons. So far I threw the tickets for cosmetic gifts and something a little personal.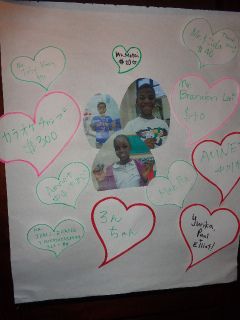 Now, unlike last January of the 2013 year the cups are flipped upside down and covered in paper and is also numbered. Unfortunately, the last 2 visits the raffle game is changing a bit. However, it's my mistake by splitting the 2 tickets instead of holding on to the stubs. So now I learned that the stubs are important to hold so you don't lose it. Other than your name being called for a winner, the matching ticket stub must be verified before you claim your prize. It's even hard to dig up your ticket stubs you hold so it's your own mistake and will be easily lost in your pockets. When you put your ticket in, you must hold all of your stubs and do not tear them up.
So the first raffle game is called and I claimed 3 prizes. 2 are cosmetic stuff and 1 $50 ticket coupon for Hakata Tonton. This cosmetic stuff is NOT for personal use but a gift for a special friend. Hopefully I do promise my good friend Lulla that I will give her expensive cosmetic stuff.


While the first raffle game ended, performer Chizuru Nihei sings on stage. She's a good singer but I have no interests in following her for performance or anything to become a friend. Otherwise it would be stupid while her boyfriend or husband is hanging around. I verify that they both wear rings on their fingers. I have too many followers so Chizuru Nihei is not needed.
The game is changing while they are urgent to buy more raffles to help out children in Japanese lessons. Now the tickets are doubled when you buy at a normal price. While Chizuru Nihei throws her ticket on a $200 NARS cosmetic gift, I wish her luck. I mentioned one of her 11 mutual friends I had at her face and she knows that person.



The second raffle games has begun and guess what, I won that $200 NARS cosmetic gift that Chizuru or her boyfriend couldn't win. That's something I deserve. There is no way I can qualify for the third one because I already won. But I glad I fun this time and next time, I may want to become NY de Volunteer staff.



The next day after NY de Volunteer, I have to go to Harlem for Ryoko Fujimoto and her band Silver Moon. While I sit on tables, I must order something or I may leave! The drinks are available at the bar.
And on Tuesday April 23rd, I decided to go to Woodside at the La Flor restaurant for a personal visit. This story will never be told.