Byte's Adventure is a Rockman 1 hack created by Darkdata in the year 2007. This hack has graphic and TSA solidity changes but scrolling, music; checkpoints, AI's and rooms are unchanged. The game comes in 2 IPS patches which still play the NTSC version of the Rockman 1 rom.
The game contains 7 out of the 10 stages. The following stages containing blocks, paper, snow, somari, castle, and dungeon. Somari is a Sonic and Mario combo pirate NES game but Sonic the Hedgehog is a NES pirate game itself while Somari is a copy from Sonic. When you reach the end of the level, you will face the boss. Boss weakness also unchanged so you play any order but are you skill enough for the challenge? Difficulty level is slightly easy like in the original.
Some levels have lack of design errors like the dungeon stage. When falling through the hole, the celing push in way down doesn't make sense. Some enemy placement is out of order which some enemies appear from nowhere. Technically, you can do that but not for every enemy which can be annoying.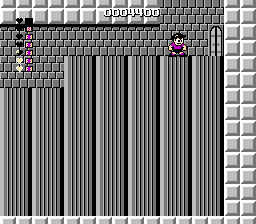 Once all 6 bosses are defeated, you get to jump into the very last level. Unfortunately, there are no rematches so you get to go to Wily's chamber. However, the boss room design isn't well as the vertical lining can scroll left and right of the room. What the heck, the evil mage Meta? Did Darkdata forget to change Dr. Wily's name on the stage selection screen.
I have to admit that Byte's Adventure is one of the good Rockman 1 hacks but can be played if bored! However, it is too easy and some enemies placements are out of order and do not match the original standards of the game. The download is at
ROM-Hacking dot net
.