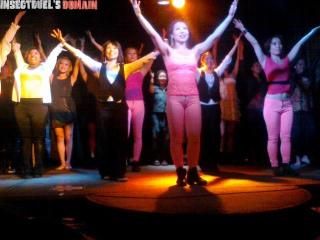 After I visit Japan Block Fair on the same day, I went to the Bowery Electric for the performance. I visited some friends before the dance show starts. People are packing the place like crazy I mean Otakon crazy. So at the will call person, I put myself as Myu to Yu as Yuko Ikeshita is one of the dancers. So I didn't know what my friend talked about but the band on the upper level wasn't the j-Summit concert, it was a different one instead. I was at the lower level.
45 minutes of entertainment with the best dance teams and pieces can offer. In the dance order, Foxy Foxes was the first with Natsuko, Ami and Eri. Second is LAPIN with Fuyuko, Megumi, and Fumie. Third is Swap Tap meets. I don't know them. Fourth is wakaranLocas with Saori and Yahira. Fifth is Foxy Foxes with a combination of Myu to Yu. Sixth is Shoko. Seventh are MARiA, CHiHiRO and EriKO. Eighth is Myu to Yu which includes Fuyuko and Yuko. Ninth is Foxy Foxes, and the last is all dancers. During the finale, people are finally putting money in the donation box.
Our team Insectduel's Domain originally supposed to do our job but Natsuko took care of it so more people are putting money in the box, including myself. It's because of last month so it got better than it was. More people including Yuko put the money in.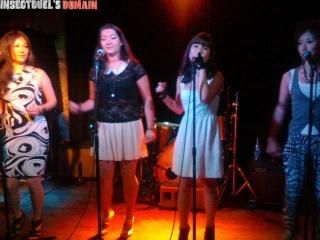 Reiko-4D is a hardcore Japanese band, her music is great. Too bad I didn't break the Ice on that one. What I mean break the Ice is to meet and greet so almost everyone except the dancers I don't know for each show. Next is FYN Vocal Studo and used up my drink ticket for water. Not WINE, COCKTAILS, or BEER. And each time, more money pours in and more people show up including my known friends. Most of the bands are rocking j-Summit the whole night and each time I have to use the Bathroom since I drank too much during the Japan Block Fair.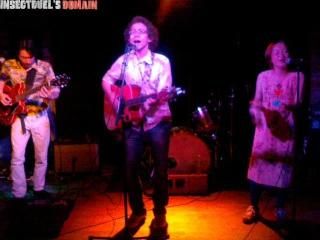 The last band is Brewgreen and the Babylon's which are 2 male singers and 1 female vocal singer from Robin's Egg Blue Atsumi Ishibashi. She is now my current follower. I'm expecting to meet Robin's Egg Blue if possible on Wednesday at 14th Street. But seriously, they put up an awesome show.
The whole day, I felt like a celebrity with the Ron-Chan name so people think I'm too famous and handsome. This weekend, I'm expecting to meet Chieli Kajiwara (Manzano since married) and her dance group SUNPROJECT so I should ask her the date of the performance.